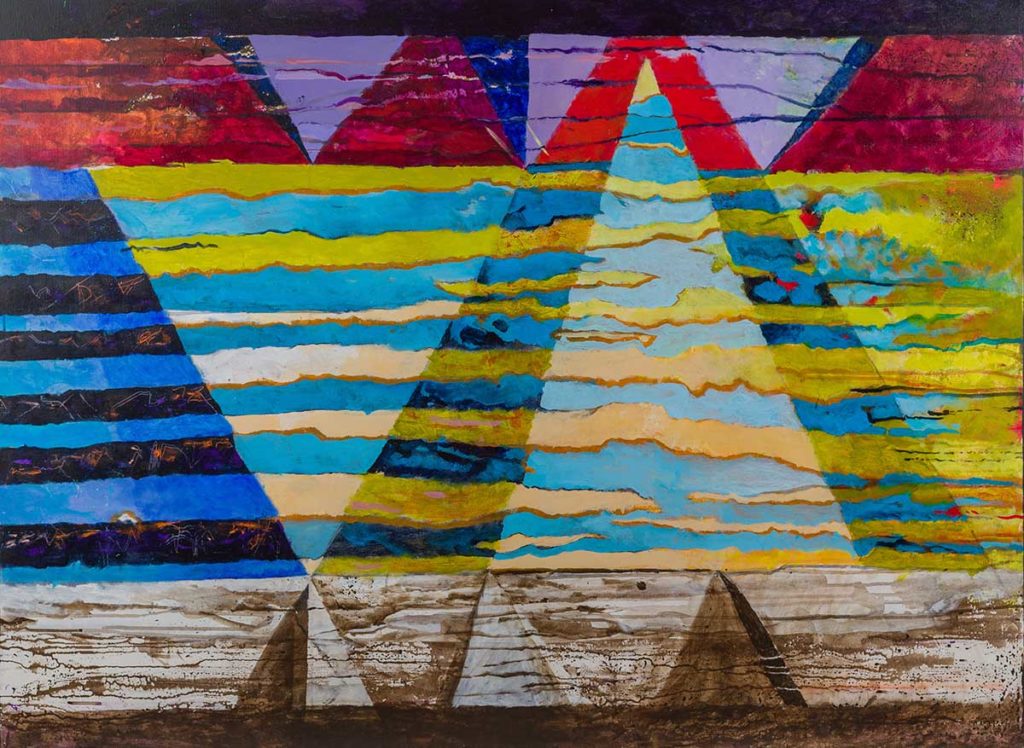 The Brighton Storeroom is delighted to announce its re-opening on Saturday 10th April with a stunning exhibition of new paintings by Alison Chapman Andrews entitled Big Gully Pond. Four important new large works that take the Barbadian landscape as their subject matter will be on display alongside smaller studies.
A graduate of The Royal College of Art in London, Chapman Andrews moved to
Barbados in 1971 and has spent over fifty years working in the Visual Arts locally,
carefully and lovingly studying the physical world around her. She is renowned for her
representation of the Barbadian landscape and these new paintings continue this
exploration.
The artist says: "My pictures are collections of simple geometric shapes mostly
triangles, and the landscape of sky, water, trees. Sometimes I refer to the shape and
sometimes to what it represents. A black and white photograph taken from a car
window of an overgrown gully was cut and glued into my sketchbook, becoming the
starting point of all the work in this show."
The "soft and safe" opening will take place on Saturday, 10th April, 2021 from 9am to
2pm. The exhibition runs until the end of June 2021. The Brighton Storeroom opens Saturdays from 7:00 a.m – 10:00 a.m. and by appointment. Visitors are reminded that all current Covid-19 protocols will be observed.