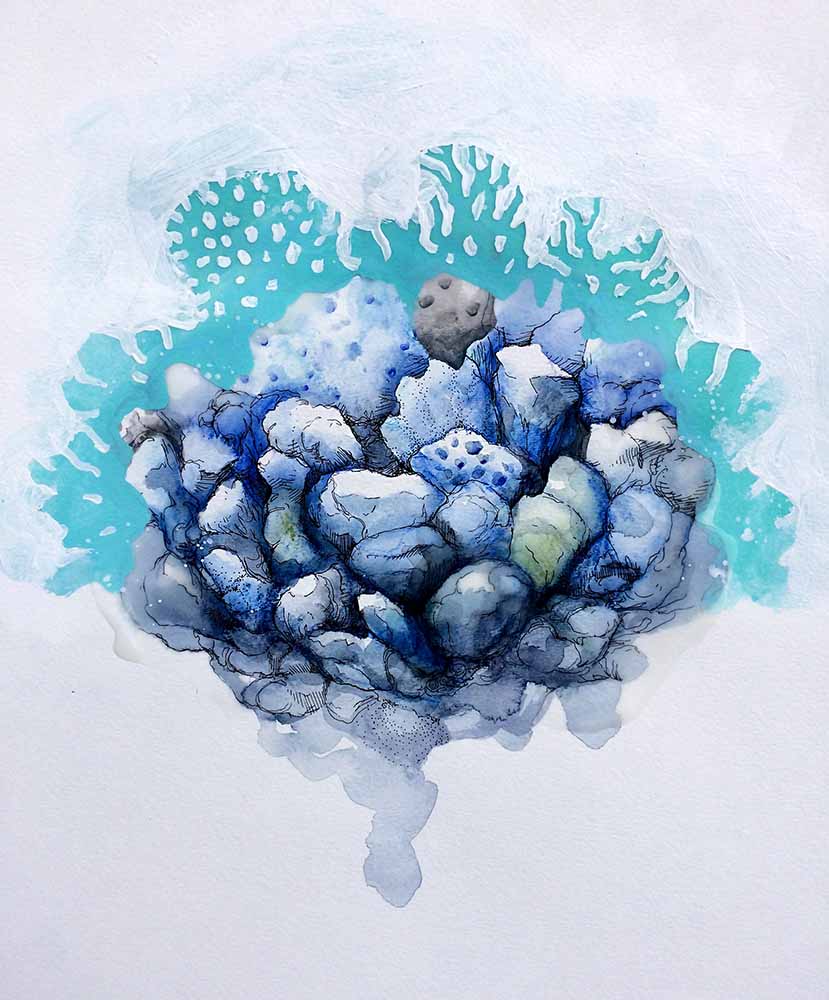 "If I was to cut off your right arm and then offer it back to you at a price, how much would you be willing to pay? It goes without saying that when we have lost something so vital to our comfort and livelihood, that we should be willing to do or pay anything to get it back."
Artist, environmentalist and educator Dustin Harewood paces from left to the right, making piercing eye contact and passionately conveying the significance of the subject matter at hand. He is addressing guests at the unveiling event for mural "Study # 4 – Dead Reef Panorama" which he painted on behalf of The Plastic Ocean's Trust. The public fresco located at the South Coast intersection at the bottom of Rendezvous Hill uses vivid colors on a limestone wall canvas to attract spectators to the profound message of coral reef degradation and the pricelessness of the underwater resources that have been lost due to human carelessness and neglect.
This is but one of Harewood's series of reef studies that educate and inspire change around the topic of coral reefs.
Harewood's innovative use of textures and colors coupled with a fearless meandering into the worlds of Barbados, Japan (where his wife, Yuki, is from) and Florida, into which he has dipped the paint brush of his life, are depicted in his intellectually challenging and profoundly impactful compositions.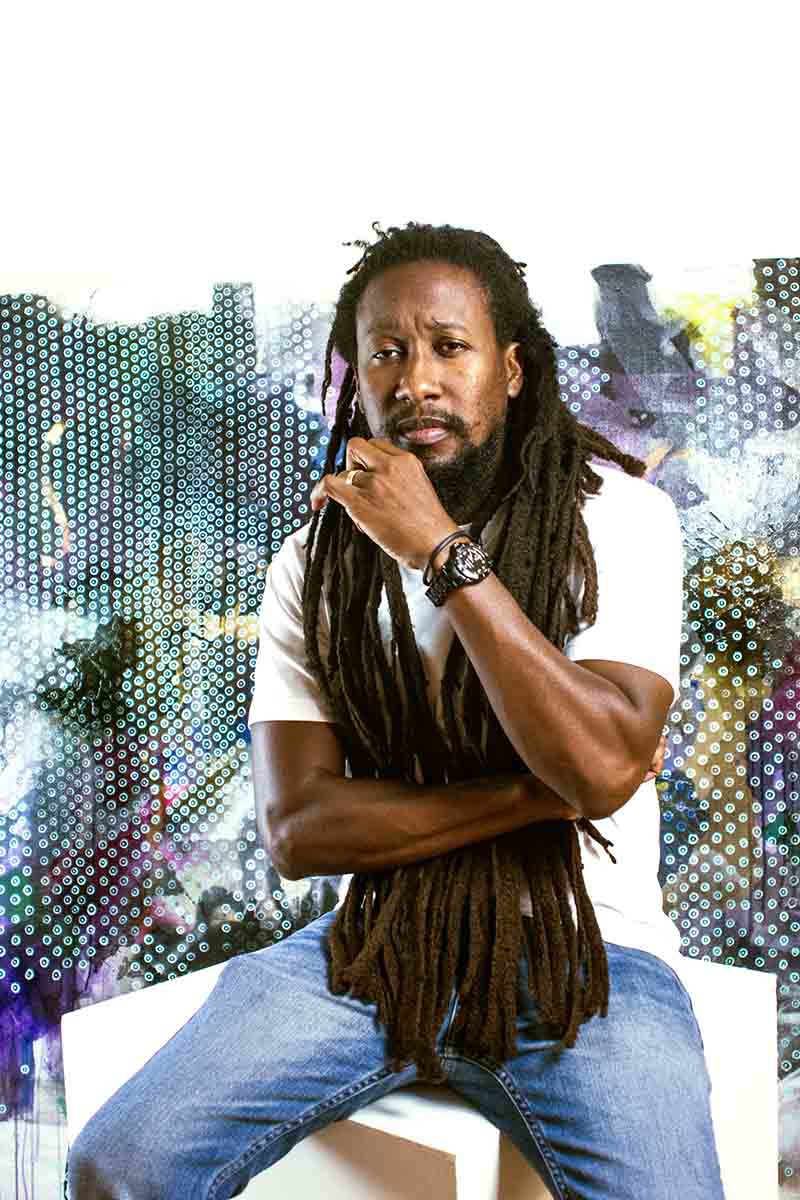 "As an artist, you have to decide how you are going to make people care," he smiles, quietly considering the techniques and message behind his work.
Inspired by the series "36 View of Mount Fuji" by Japanese legend, Katsushika Hokusai, Harewood's "36 Views of a Dying Coral Reef," tells the story of the submerged landscapes just off the shorelines of Barbados. Abstract lines and shapes and Japanese newspaper clippings provide texture to bold acrylic interpretations of underwater graveyards set on circular canvases that provide elegant symmetry against the distressing story being depicted.
Although originally from Barbados, Harewood spent the first decade of his life in the United States, and migrated to Barbados at the age of eleven. After graduating from Foundation School, Harewood earned a Bachelor of Arts from North Carolina Central University and a Master of Fine Arts in painting and drawing from the University of North Carolina-Greensboro.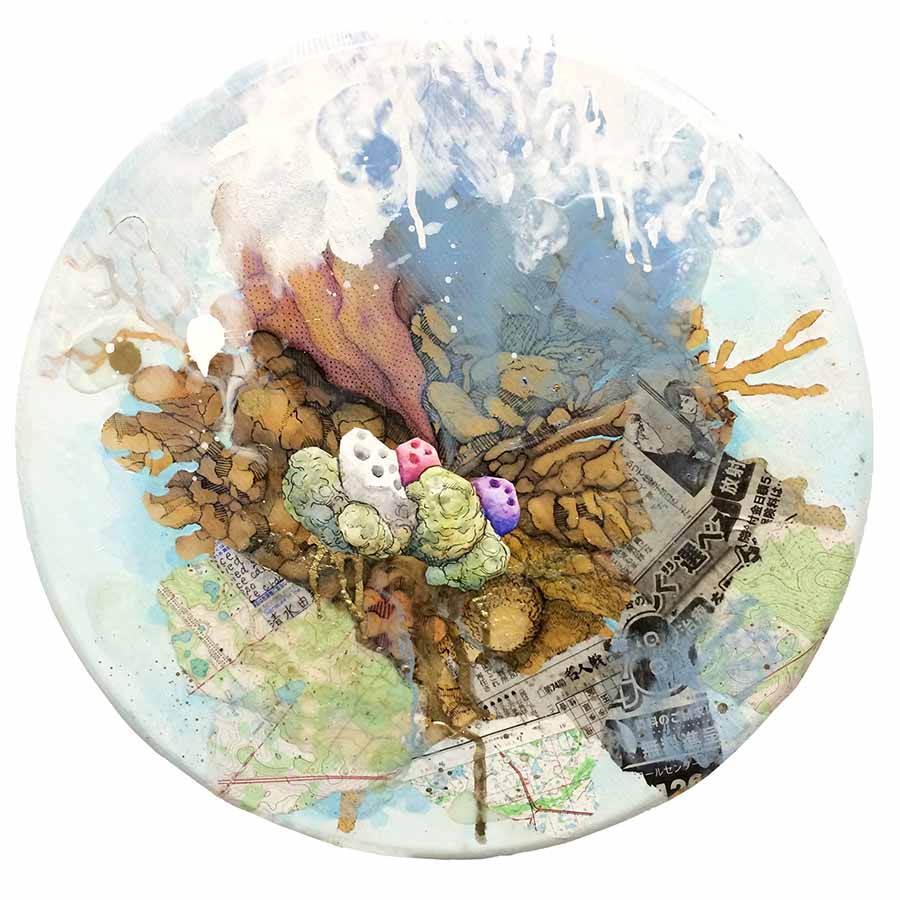 Dustin's passion for his craft, wealth of talent and his ability to connect with others have not only made him a success in his field, but also an outstanding mentor and educator. As an orator and professor of design and painting at Florida State College at Jacksonville (FSCJ) Dustin has a way of making everyone in the room feel like he is speaking directly to them. "He points at you, he smiles, he identifies your most endearing character trait and you're hooked on whatever he has to say," shares a gushing student. In recognition of his talents, Dustin was recently honored with the Arts Educator Award by the Cultural Council of Greater Jacksonville.
While committed to his intention of maintaining subjectivity in the interpretations of his work, Harewood uses his platform as a successful artist and educator to engage and inspire viewers to invoke change.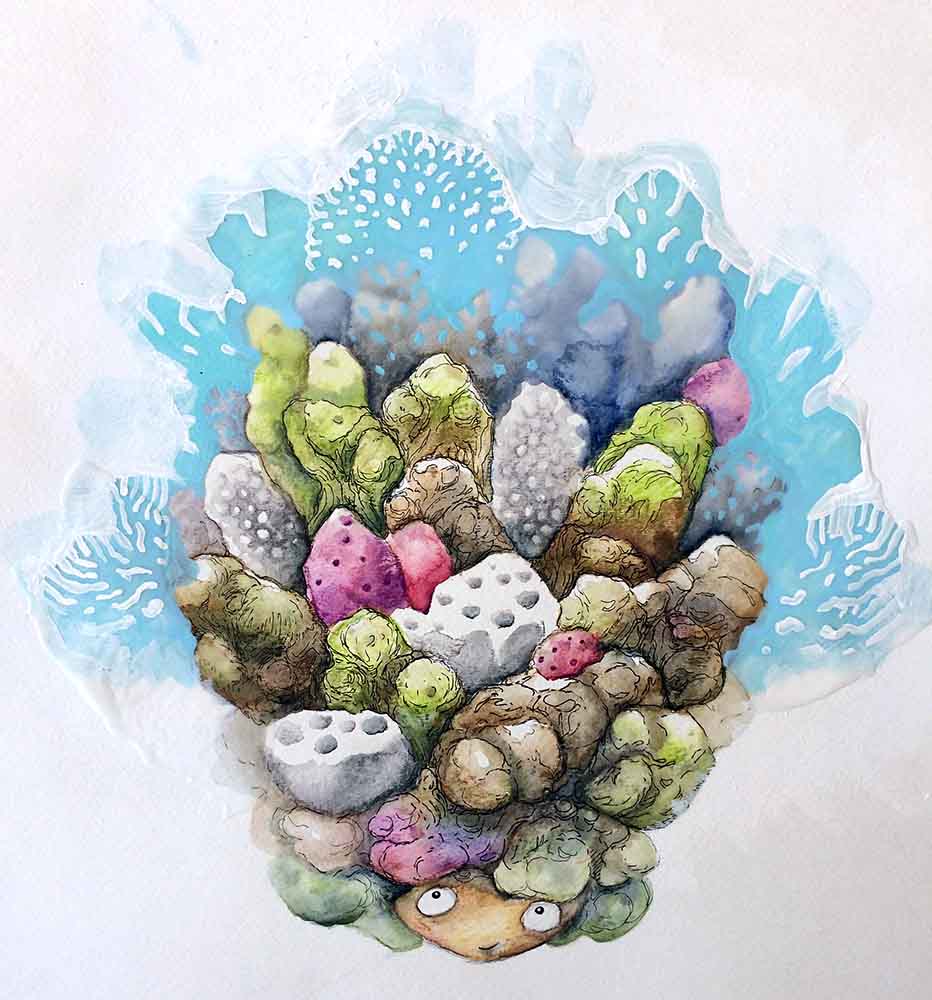 "I want for my reef drawings to suggest a gnarled elegance, quiet beauty and sadness. As far as humans are concerned, I find it fascinating that there are many instances when we unwittingly destroy the things that we love."
According Plastic Oceans Trustee, Sharon Oran, "Not only does Dustin's work sensitize people about the challenges facing our coral reef, but it communicates a message of responsibility. It calls on all of us to become conscious beings who make choices not out of habit and convenience, but out of an understanding and concern for our environment and our children's future."