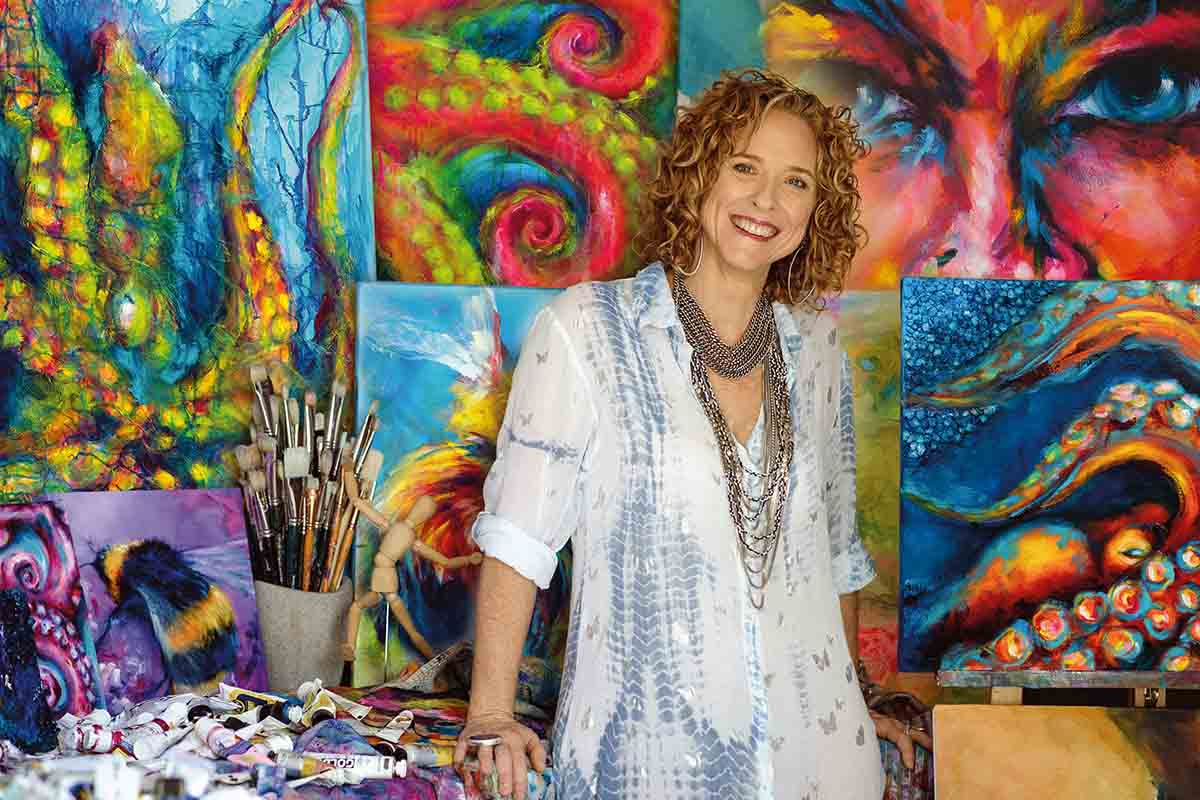 I've found I could say things with colour and shapes that I couldn't say any other way. – Georgia O'Keefe
Sian Pampellone's slim torso spills over her Great Dane-Neopolitan-Mastiff aka "giant love bug" in a gesture of motherly dotishness, her burnt orange curls bouncing to the beat of her laugh, as we recline on the floor of her studio— Sian, Zeus and I. The profusely wrinkled canine has a major role to play in all of this— the collection of colourful pieces that decorate the walls of local and regional galleries and private homes, the rapidly evolving line of merchandise, the smile on his owner's face and her deeply spiritual outlook.
"Zeus grounds my work. When he is in my studio, I get calmer. When I don't know where I am going, when I'm processing stuff, when the work is all over the place. When Zeus is in the studio, he grounds everything." The artist glances adoringly at the gentle giant, now asleep at her feet.
Sian's earliest memories of painting are of the childhood kinship that she shared with her grandfather, artist Gordon Parkinson, who taught her that she should not become too mentally involved or stylistically attached to her work. "My grandfather did not believe in the perfect way to draw," explains Sian. "His technique was naturally in his work— it was simply him. He believed that I should throw my soul onto the canvas and see what happened."
And so she did.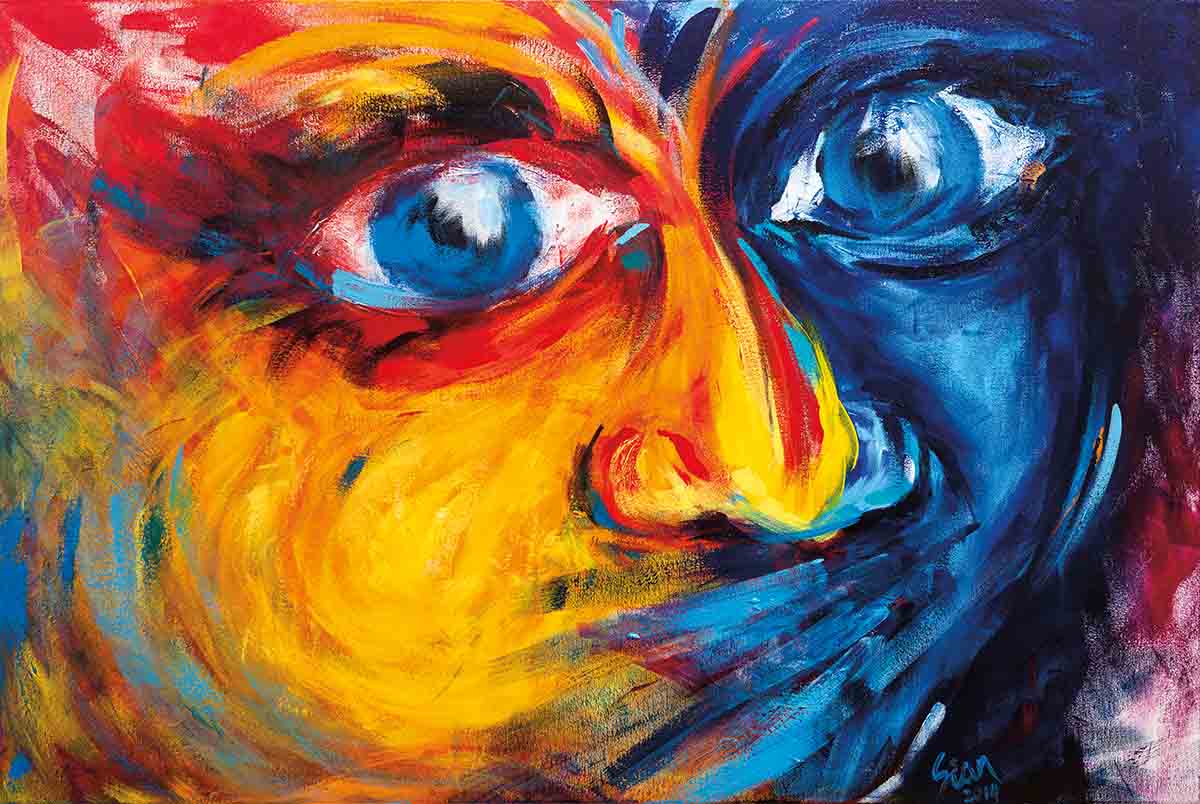 Blues, reds, greens, purples, oranges and yellows in the most vibrant of hues— they dance around her canvas creating form and texture; connecting with the viewer in an explosive burst of authentic emotion. "I don't see contrast in colours the way others do," she explains. "I'm trusting. The colours chose themselves."
Everything for Sian is symbolic. Lotus flowers emerging from dirty mud signify that no matter what you are going through you will always blossom. Water is about flow and change. Spirals and tentacles are a reminder that nothing is permanent.
Many of Sian's paintings also speak to edgier social themes, such as public facades and society's tendency to mute and shame those who are considered small or weak. Her signature pieces of young children contain a strong message depicted by closed mouths and piercing eyes that scream out so loudly that the viewer might just look away.
One of Sian's darkest and most poignant pieces is entitled "The fear within"— an expression of what it feels like to be clinically depressed— to be voiceless and overlooked by a mainstream culture that is not sensitive to mental illness. In this composition, blue hands hold a red head in utter exasperation— an unsettling message that is clearly very personal.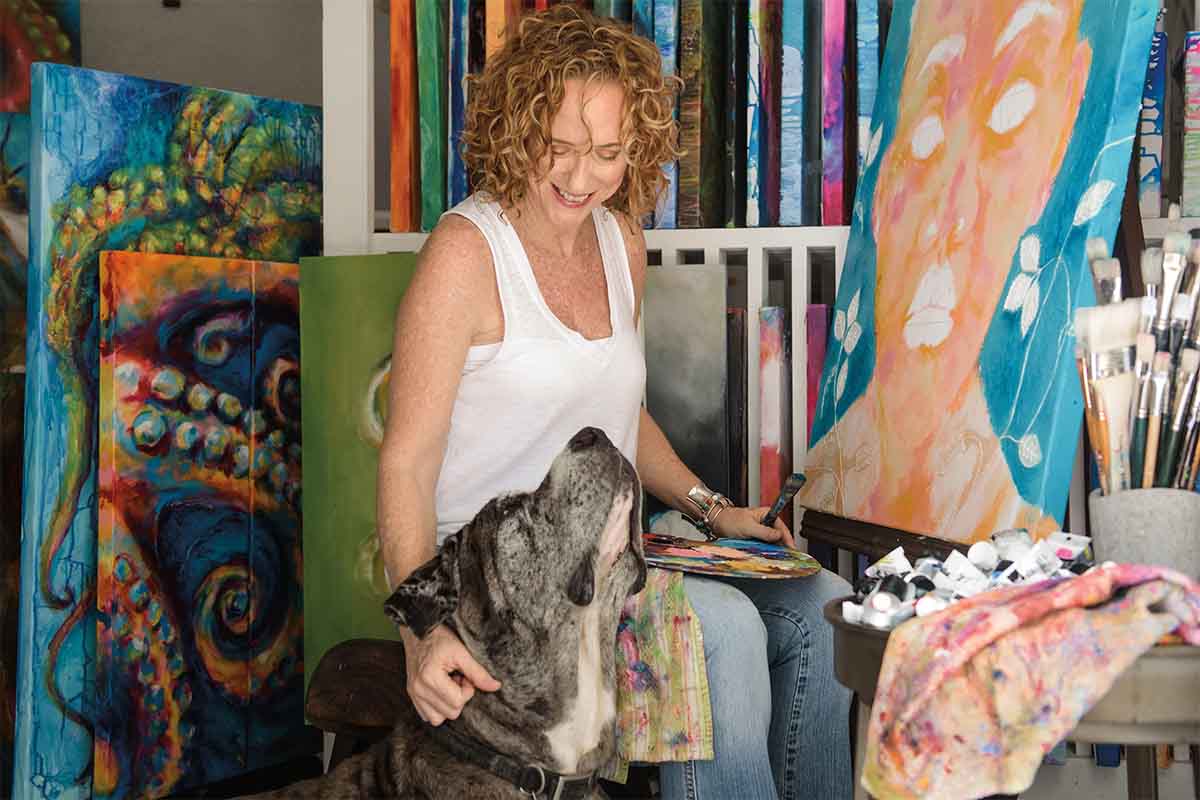 For Sian, art is a reflection of her interaction with the world. "Life is all about bumps and ridges and texture," she explains as she runs her finger over the hangs and folds of Zeus' grey-brown coat.
"Art has allowed me to find beauty in the negative elements of my own existence," she continues. "For me there is beauty in everything— in the mundane. I see beauty in an empty casing as it glistens in the soil. Light catches every little thing and from the light emanates beauty. I find beauty in things that other people might walk past. I can grab a plastic wrap and use it, just to see what happens."
As we chat, long strands of Zeus' thick, glistening drool dribble to the floor from the gaps of his droopy mouth. Sian wipes away the goo with loving precision, confirming for me that from behind the mask of the imperfect can lie the most awe inspiring beauty.
"Art is not just a pretty piece that you match a couch with," she declares. "Art must connect with the viewer in a way that they are encouraged to reconnect with themselves. Every time you walk past it you should feel something different."
By Daphne Ewing-Chow