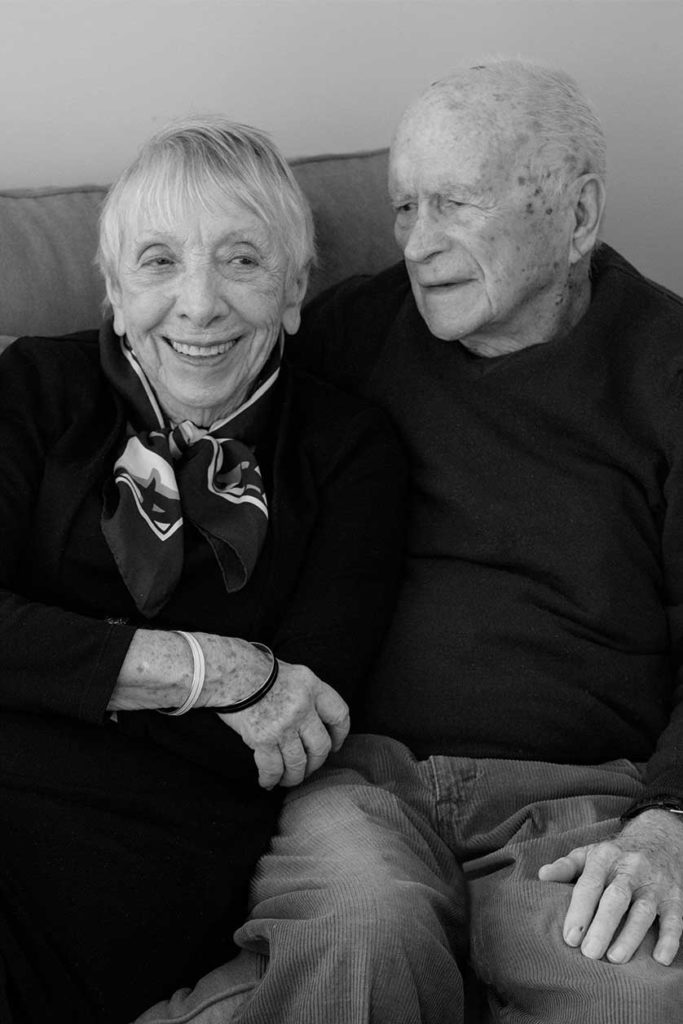 We arrive promptly at 10:30am to meet Elizabeth and David Goring long-time visitors to Barbados. They invite us into their sun-bathed sitting room with an incredible view of downtown Toronto including the iconic CN Tower. The two of them gingerly make their way to the sofa and cuddle up together for our visit to talk about why they still travel to our island even at their age.
Within minutes I've decided that I want to be Elizabeth when I grow up. At 97 years young she is still sharp as a whip. She's dressed is a slim fitting black dress adorned with an expertly tied silk scarf, makeup applied to perfection. Behind her on the wall is her collection of framed vintage Vogue magazine covers dating back to 1919 just two years before she was born.
Born in Guyana, David is also 97. He is a celebrated scientist and was recently acknowledged for his contributions in applied chemistry and chemical engineering by colleagues from around the world. His dry wit and calculated delivery kept us on our toes throughout the visit. He even sings a few calypso songs for us proving his connection with the Caribbean remains strong after all these years living in Canada.
We were introduced to the couple by their travel agent, Milka Cook of Collacutt Travel. After working with the couple for over 25 years they have become very close. Beyond being loyal clients, Elizabeth and David have become like surrogate parents to Milka. "They still like to travel and feel very comfortable and safe vacationing in Barbados," she explains.
David and Elizabeth continue to keep Milka busy booking travel. This February the couple will return to the Accra Beach Hotel and Spa their favourite hotel. The two of them have been vacationing on the island for more than 20 years and have several friends on island they have met on their trips. On their next trip they look forward to relaxing in the sun and reading by the pool. Elizabeth remains an avid reader and now lovingly reads aloud to David.
In past visits, they have rented a car and explored the island stopping along the way to enjoy the views and some of their favourite local cuisine like flying fish. David fondly recalls a visit to Harrison's Point Light House in St. Lucy. Every Sunday they spend on the island you'll usually find the pair at church to worship and they marvel over the beautiful attire donned by locals. The Gorings have also spent time in the Barbados National Archives tracing David's family history. His ancestors passed through Barbados for a time on the way migrating from England to Guyana.
David regales us with a tale of singing at Karaoke on a previous trip. This doesn't surprise us in the least. His performance may have been fuelled in part by the many rum and cokes he has had on their trips. Elizabeth matter-of-factly tells us her drink of choice is gin for the simple reason that she's English. Coincidently, at this point in the interview we are all having a glass of Sherry to celebrate our meeting on a sunny Wednesday morning.
As we marvel over this endearing couple, we can't help but ask how they maintain such an emphatic joie de vivre at their age. Elizabeth tells us the secret is laughing – something they've both been doing since we knocked at the door. David goes on to give his advice on maintaining a long and happy marriage. First, he recommends you tell your wife each and every day that she is the most beautiful woman in the world. Also daily, he advises to tell her you love her more than anyone in the world. In his signature well-timed delivery, he gives us his final prescription. That you must give her all of your money. Now we're all laughing. Here is to wishing them a safe trip and many more returns to Barbados.