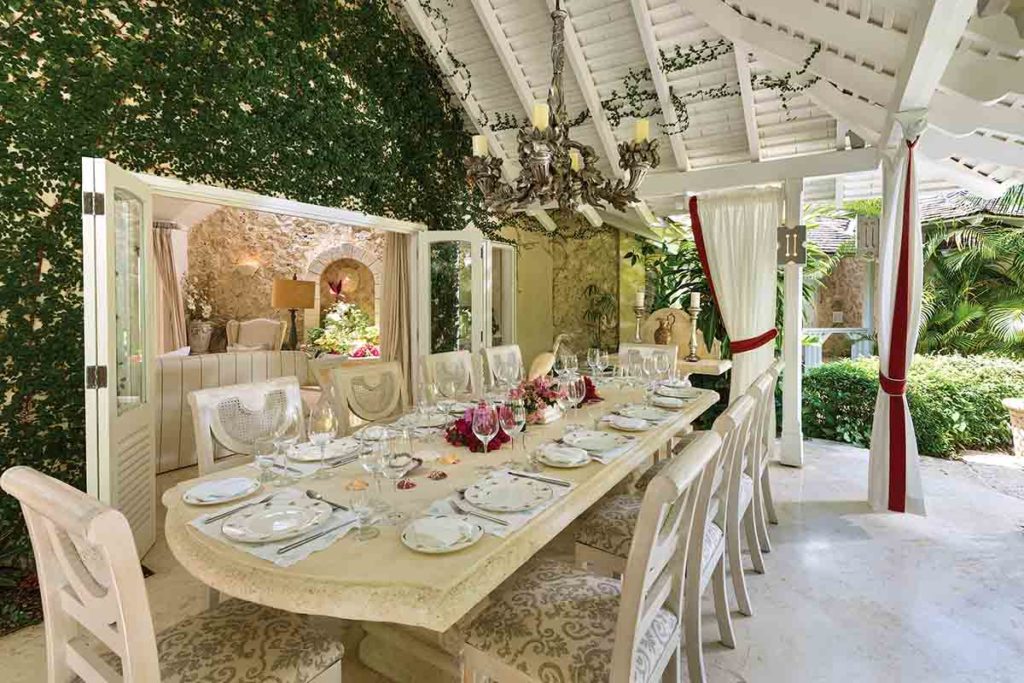 At the end of a quiet street in Sandy Lane, Point of View villa is enveloped in lush gardens wrapping around the back of the villa like a warm hug and protective barrier from the outside world. From the moment you step inside, your entire body relaxes. It is almost as if simply crossing the mahogany bridge over the softly bubbling koi pond transports you into another realm where every day is simply for rest and recuperation.
The five-bedroom villa is an expansive retreat perfect for families and other groups looking to reconnect or form new bonds. In fact, Althea Ellis who has been caring for the property and its many guests for the last 14 years say, "some guests never want to leave and barely venture off the grounds." The villa, gardens and luxurious pool area are expertly designed to allow for spaces to accommodate all guests together but also to dedicate intimate nooks for those looking to escape the crowd.
The pool's sundeck is a guest favourite providing unobstructed views of the ocean and incredible sunsets enjoyed over a cocktail or glass of bubbly. Before the sun goes down, guests of all ages congregate at the sprawling pool divided into two sections by a cozy gazebo perfect for breakfast or lunch.
Eulen Quintyne is the resident cook at Point of View and lovingly caters to visitors every whim. She cooks a variety of fares and enjoys delighting those new to Barbados with local cuisine. Most often requested are macaroni pie and flying fish, which comes as no surprise.  Eulen remarks that those who return to the villa year after year sometimes depart heavier than they arrived based on their menu requests, however she serves plenty of fresh fruit, fish and healthy salads for the health conscious.
Informal meals are often shared all together at the plush outdoor dining area overlooking the pool. As waist belts tighten, it is an easy transition to the games table, nearby bar and cozy conversational area sizeable enough to suit resident groups and their guests.  A few steps further, a second gazebo shelters a chaise bed for two frequented for reading and quiet time.
At the back of the house, a romantic formal dining table is tucked away amidst lush greenery of the main garden. Several torches and a hanging candelabra set the mood for long lazy dinners and nightcaps shared by new friends and old. By day, the same garden is a picturesque space for children to play or groups to indulge in daily yoga practice.
The design aesthetic of the English owners is evident as you tour the bedrooms. All are unique and enchanting in their own way with soft tones and pops of colours that make exploring each room a delight. Every attention to detail has been paid from lush drapery and linens to inviting lighting creating five tranquil cocoons.
Two separate cottages form self-contained en suite units featuring private garden patios. The first cottage is traditionally decorated with a playful twist. Monkeys in trees adorn the drapery punctuating soft cream tiles and furniture throughout the suite. A large bathroom opens up off a petite area set up for coffee and tea for cottage guests that rise before breakfast is served.
On the other side of the main house, the second cottage is equally inviting and similarly laid out with the addition of a small day bed suitable for a toddler or small child.
The remaining three bedrooms are within the main house. One bedroom conveniently shares a sprawling family bathroom with the TV room next door. Althea unveils that two large daybeds hide an additional two trundle beds underneath to sleep up to four children. During the day, children and teens often retreat here to lounge and play.
As the tour continues, a pristine white marble bathroom gives a hint of the glamorous bedroom to follow. Coral accents and a grandiose headboard flanked by mirrored night tables make the bed a stunning feature of the elegant room.
Guests staying in the master bedroom will feel like royalty in the four-poster bed. The room was recently expanded and featured vaulted ceilings accentuating the already palatial feel. Greys and blues transition seamlessly into a similarly spacious bathroom engulfed floor-to-ceiling in white marble.
Beyond exquisite design and fabulous views, it is the warm and gracious staff that set Point of View apart. Many have worked at the property for more than 15 years and have watched children grow from babes into newlyweds each year their families visit. Althena smiles as she reflects fondly "new guests always greet us with a handshake but leave with a hug."