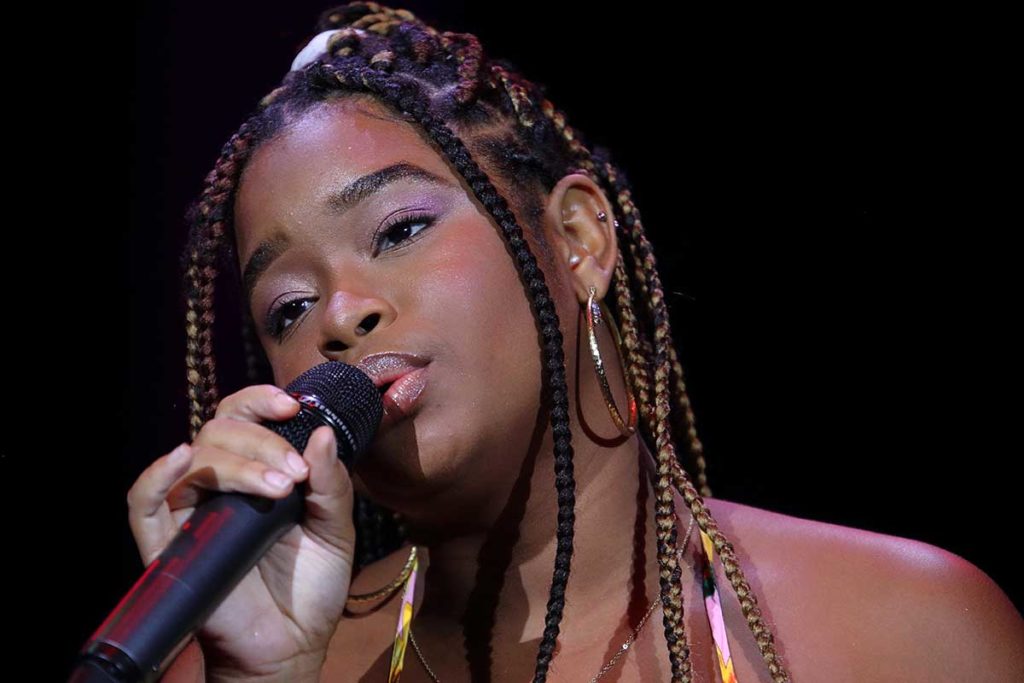 15 powerful live performances wowed the crowd at the annual Honey Jam Fundraising Concert Saturday, November 17 at Frank Collymore Hall!  The concert raises money for a non-profit artist development program.
Everything kicked off at 6:30 with a red carpet mixer featuring live art by Shane Eastmond of 6PMSplash, music by DJ Josh, delicious sample treats by Cravings desserts, giveaways by Diamonds International, Suga Apple Swim and Cave Shepherd, three $500 cash vouchers from BPWCCU as well as vouchers from Dome Mall, Kensington Mall and Paradise Cafe and a pop up by Eye Q Stylist Opticians' luxury eyewear brand Peoples From Barbados.
At 8:00, the audience was treated to an eclectic mix of dynamic live performances in a variety of musical genres including jazz, hip hop, soul, alternative, rnb, pop, gospel, reggae and soca.
There were nine acts plus five special features including:
Man Jam! – For the first time in the history of the Honey Jam brand – 23 years in Canada and 8 years in Barbados, three male artists – Jabari Browne, Chad Montplasir and Kareem Agard took to the stage and blew away the audience.  Show producer Ebonnie Rowe explained that for all the years that Honey Jam has been existed, she has been repeatedly asked about including men.  What inspired her to do it this year was when audition judge and local hip hip artist Island Levvy said that he wished there had been a Honey Jam for him when he was younger so she tapped Jabari Browne, brother of Honey Jam Barbados' best known alumna, Nikita, to organize the performance which featured an eclectic mashup that showed their versatility.
Therez Lambert– the teenage alum has been generating a lot of buzz recently with her participation at NIFCA as well as her performance during the open mic of Mahalia's Corner.  She performed 2 original songs at Honey Jam while accompanying herself on keys and then again in the 2nd half in an energetic gospel performance with her band Focus.
Honey Jazz Promo for the January Jazz Gala featured Leigh Phillips doing a sentimental sweet duet with Kweku Jelani on the Nat King Cole song "Unforgettable".  The jazz world has been honouring Cole during the 100th anniversary of his birth.  Dannyele Leslie will also appear in the January 26 Honey Jazz gala and did alively version of  "I've got Rhythm".
Finale Act Faith Callender featured the Riddim Tribe Dancers and live painting on stage by Shane Eastmond. Her mashup of genres was a hit with the audience and also featured a sneak peak of her upcoming release "All Night Long".
House of Dae showcased tracks produced by Vibes by Dae and featured Adaeze, Rhea Layne, Shanta Prince and Kweku Jelani.  She had a makeshift studio on stage and was "producing" while the artists were performing.
All of the artists came on stage at the end for a powerful a capell version of "SuperWoman' after which patrons headed to the terrace for an after-party featuring the lively NJ30+ band that had patrons dancing on the terrace of the Hall into the night.