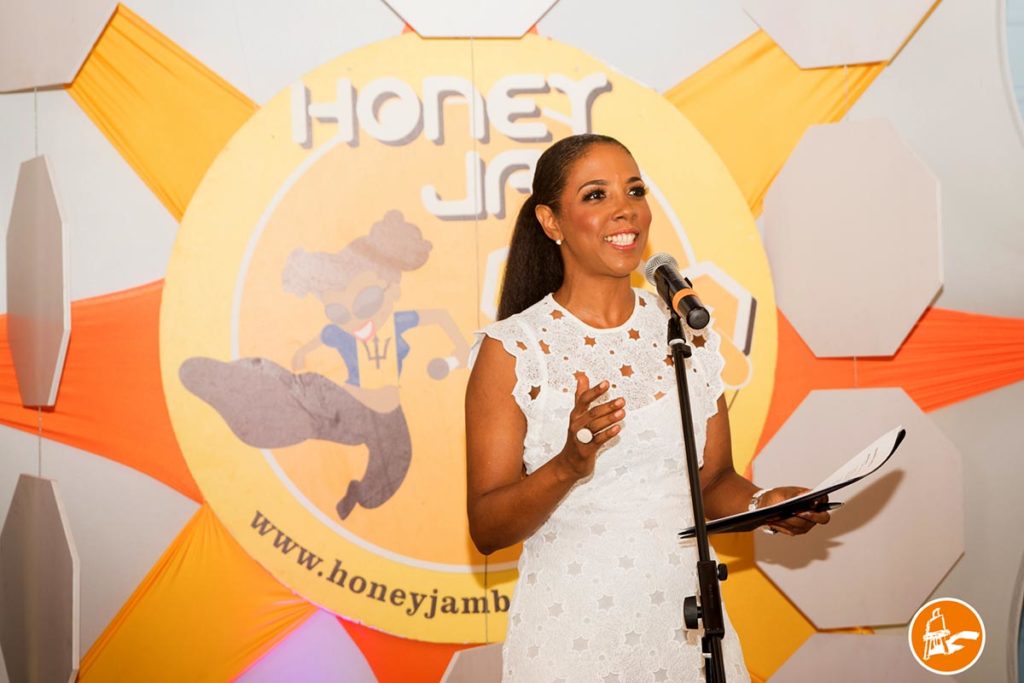 Ebonnie Rowe and her Honey Jam Canada programme have been shortlisted to one of three finalists in the running for the 2020 Roy Thomson Hall Award of Recognition, a $10,000 cash prize for the recipient's organization to recognize significant creative, performing, administrative, volunteer or philanthropic contributions to Toronto's musical life.  The winner will be announced during The Toronto Arts Foundation Awards later in September, which are presented to artists, cultural leaders and businesses in recognition of artistic excellence, cultural leadership and contribution to the arts.
Rowe says: "This is a significant honour, just to be nominated and then to be on the shortlist for the award.   This recognition is a testament to 25 years of dedication and hard work by everyone involved in the programme.  It's always humbling and appreciated to be recognized.  When you're doing the work you just have your head down getting it done and you don't really think about if you're being seen outside of the circle your initiative serves so it's a lovely surprise to know that what you are doing has a wider impact and that you are seen and appreciated for your contribution. We're thrilled and honoured to be in the running for this prestigious recognition."
Toronto's Mayor John Tory recently paid tribute to Honey Jam saying: "For the past 25 years HoneyJam Canada has been doing incredible work in supporting, promoting and celebrating female artists in Canada's thriving music industry; work that has brought countless Canadian artists into the spotlight on a global scale including Grammy Award winners Nelly Furtado and Melanie Fiona as well as Juno Award winner Jully Black, just to name a few. I've always seen art and music and all different forms of art as a great unifier.  It's the universal language for our city and for the world for that matter and I'm happy that through the work being done at HoneyJam Canada female artists, women right across our country will feel empowered and be supported to have a voice and to realize their own dreams.  Through the impactful experiences; the networking opportunities, performances, songwriting camps, or industry workshops, HoneyJam Canada is making a difference in the lives of those aspiring artists right across this country. Over the years Toronto has gained a global reputation for our world class music scene and its through the work of HoneyJam Canada that we can help ensure that this reputation is one that is equitable and reflective of the diverse and inclusive city and country that we live in. I want to thank HoneyJam Canada for all the incredible work that they do."
Roots Canada has come on board to partner with Honey Jam with a social media campaign to celebrate their milestone anniversary.  Their Director of Culture Raymond Perkins says: "Roots salutes Honey Jam and its leading light, Ebonnie Rowe, for 25 years of supporting and promoting Canada's emerging female artists and encouraging more women to develop careers in the music industry."  Four artists from the October 1 concert received Roots gear and will be featured in a promotion where they will sing the song they will be performing at the concert.
When asked about the Barbados version of Honey Jam which marks its 10th Anniversary in 2020, Rowe laments, "Due to the economic fallout from Covid there is now no sponsorship dollars available from Corporate Barbados or the Government to support the programme.  Still, I'd love to mark the milestone in some way before the end of the year so I'll be reaching out to some or our alums to come up with something.  One thing I am excited about is to be able to share the Canadian Honey Jam experience with Barbados and the world as we're livestreaming the concert due to COVID so everyone can watch it free on October 1."    Honey Jam 25 will be a celebration of  women in music where emerging artists will pay tribute with covers of iconic songs by female artists in a variety of genres – pop, hip hop, jazz, RnB, country, dancehall, rock, even opera!
The livestream is accessible at 8pm on October 1 at nugs.tv.