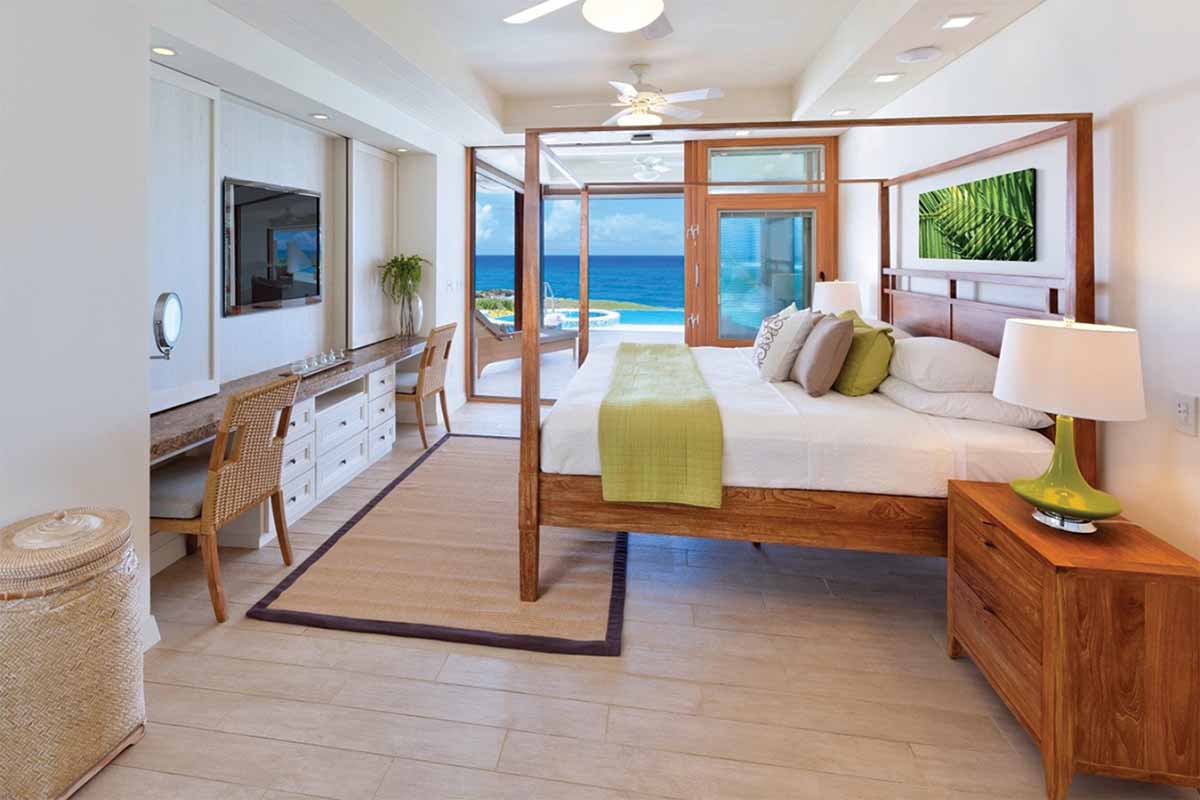 Overlooking the quaint Skeete's Bay Beach, Crane Resorts has began the unveiling of their new addition to the island's extensive eastern coast, in an exclusive 1% of the area that remains outside of Barbados' National Park. Managing Director, Paul Doyle, expresses his appreciation and endorsement of this 'beautiful stretch of coastline' remaining untouched forever, adding, "We were fortunate to acquire a magnificent site on the island's East Coast, where land development has been historically restricted."
Beach Houses, now in its first phase of development, has utilised the unrefined rawness that characterises this section of the island by allowing it to inspire the design brief. With this direction in mind, the project has been driven towards a sense of preservation and assimilation, with respect to the site's natural environment.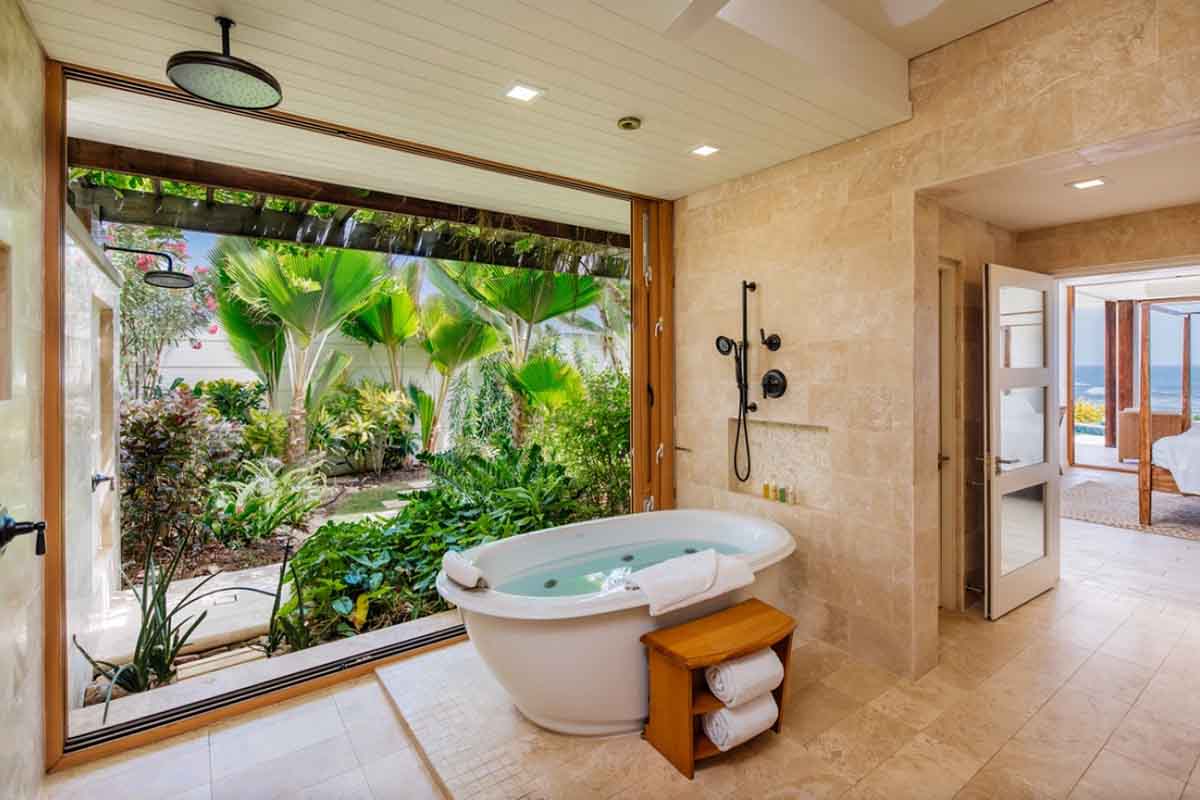 On completion, Beach Houses will feature a terraced, single story-design, with freestanding two, three and four-bedroom villas spread across a gently sloping 50-acre hillside. The site's tapering landscape allows for the proposal to be gently tucked into the terrain, creating an almost seamless connection between the natural flow of the land and the green roofscapes of each successive unit. This strategy allows for greater land preservation due to less excavation, and grants clear sight lines as the development recedes from view. Design Manager, Shawn Archer, discusses the inconspicuousness of landscape displacement, stating that they have, "successfully created harmony between the design of the development and the natural environment." Further to this he adds that each phase of buildings has been thoughtfully elevated to ensure 180-degree ocean views for all guesthouses. Though the use off green roofing is an aesthetically pleasing asset of this design scheme, its incorporation also aids in mitigates heating loads which in turn reduce A/C and power consumption.
The boundaries which surround the buildings' footprint consists of mindfully selected plant species, chosen for their low maintenance qualities. Lawn areas are composed of Zoysia grass, due to its ability to thrive in coastal areas, while the seaward pool-side features water conservative, hearty plants such as sea grape plants and ficuses. In addition to this, on-site rainwater collection is used as a supply for all irrigation systems, eliminating water waste for vegetation upkeep. Just outside of the site-lines, closer to the cliffs edge, all natural habitats have been preserved in accordance with National Park regulations.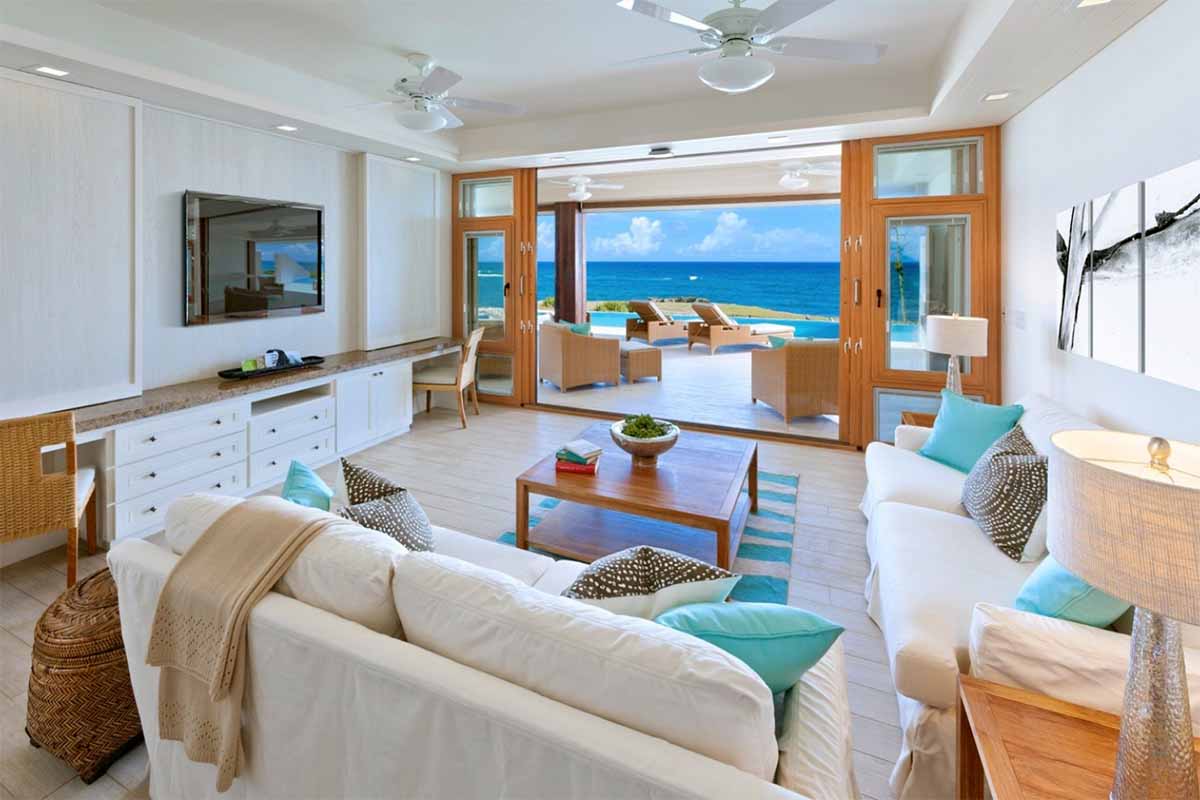 The building's interior continues this theme of built and natural unity through the use of open, flowing spaces that connect each room to another and subsequently back to the outdoors. Upon entry into these homes, a direct view of the ocean is revealed, stretching across the kitchen, living, and veranda and deck areas. This layout creates an interesting perspective, generating an immediate and intimate connection to the coastal scenery. The use of large, sliding and double doors and floor-to-ceiling glass windows gives the illusion of boundlessness while simultaneously allowing for natural cross ventilation. This works to reduce energy costs by minimising the need for artificial light during the day, as well as working in coherence with the green roofing to deter excessive use of fans and AC units.
An excellent example of this openness can be seen in the bathrooms where sliding doors open at full wall length, showcasing a small enclosed garden, abundant in diverse greenery. This design feature not only plays on the idea of connectivity between users and nature, triggering an experiential spa-like environment, but also floods the space with natural light, removing any need for artificial sources till the evening. When necessary, guests make use of Green, LED lighting throughout the house, along with the added sustainable measure of water-efficient kitchen and bathroom fixtures.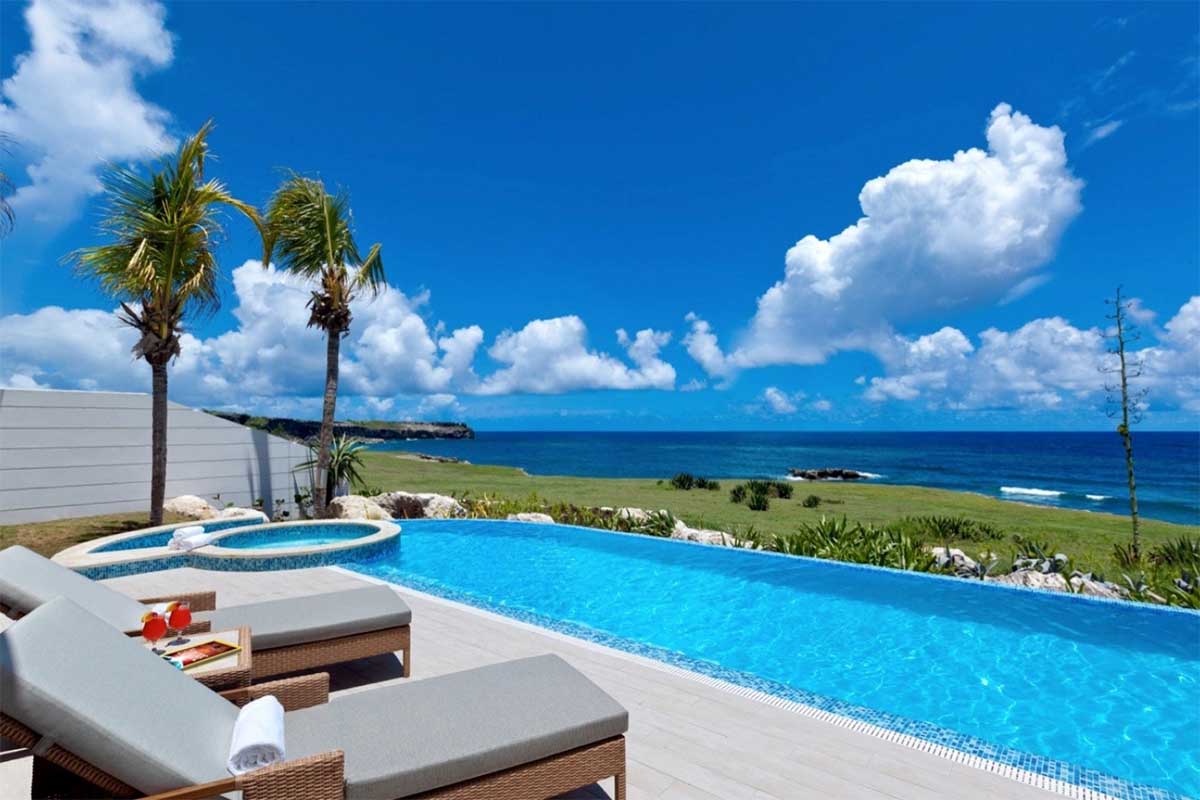 Further development will transform the area into an intimate community full of laid-back luxury. Such amenities will include a secluded beach, a restaurant, bar, state-of-the-art fitness centre— all featuring panoramic ocean views, as well as a day spa and convenience store. Owners will also enjoy access to sister property, The Crane, taking advantage of its world-class amenities and services including of course, the famous Crane Beach— widely acknowledged as one of the best beaches in the world.
The thoughtful planning of Beach Houses successfully blends the concepts of a remote island getaway and resort-type retreat, offering a sustainable and secluded home-away-from-home tailored to your individual needs. Residential and Fractional owners both receive unprecedented benefits, including developer-managed rental options, turn-key services and all the amenities and services of a 5-star resort.
Phase one of Beach Houses is expected to open in December 2018. Fractional Ownership prices start at US$180,000 (four weeks); Residential Ownership prices range from US$1.9 – US$2.9M.
By Michaela Gomes