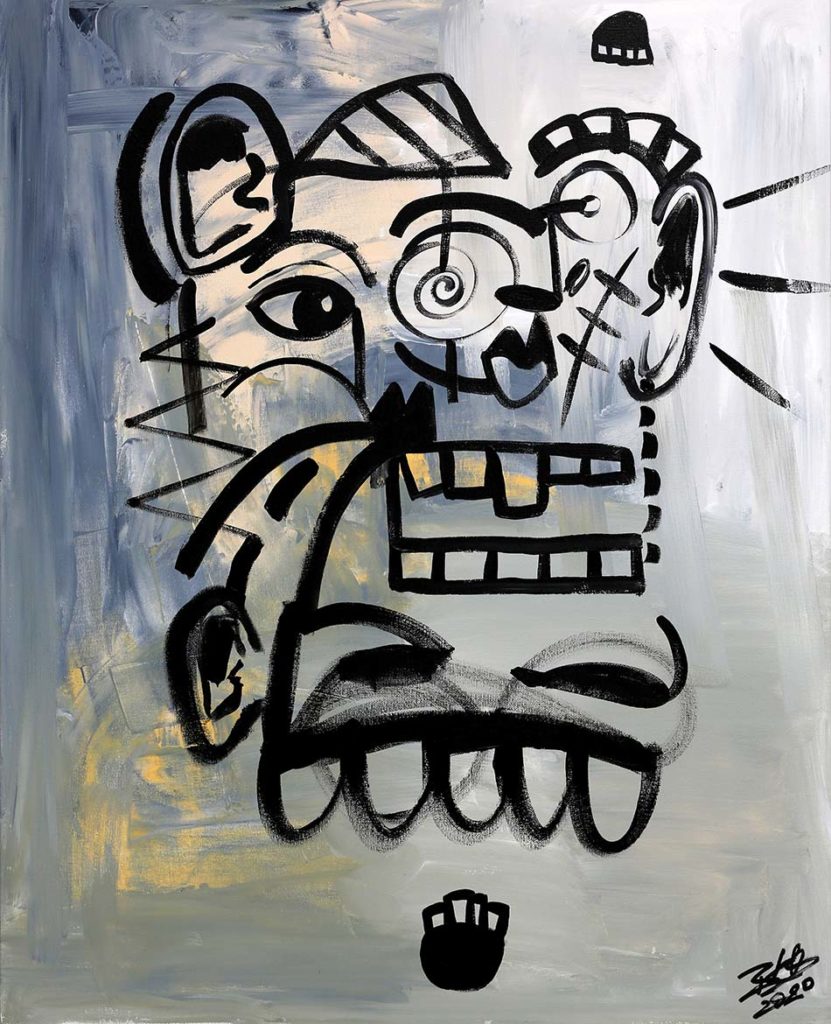 In this issue of Living Barbados we explore the future. We wanted to highlight an emerging artist whose budding career truly embodies the optimism and inspiration we all yearn for right now. At just 22, Brandon Best crashed onto the Barbadian art scene like a meteor. After stumbling across his work on Instagram I started to see him pop up regularly in my feed and those of other tastemakers I follow. What really caught my attention, besides the rapid growth of his following, was the buzz and social engagement that pictures of his work received. I scrolled through numerous comments about how sick and dope his work was. The sheer number of flame emojis celebrating his paintings gives a clear indication of the predominant demographic of his current fan base.
I finally meet the young artist as he arrives to the studio for a chat and to shoot his headshot for this article. He walks in carrying stacks of artwork under both arms and a huge smile which I quickly realize is just as iconic as his use of bold lines.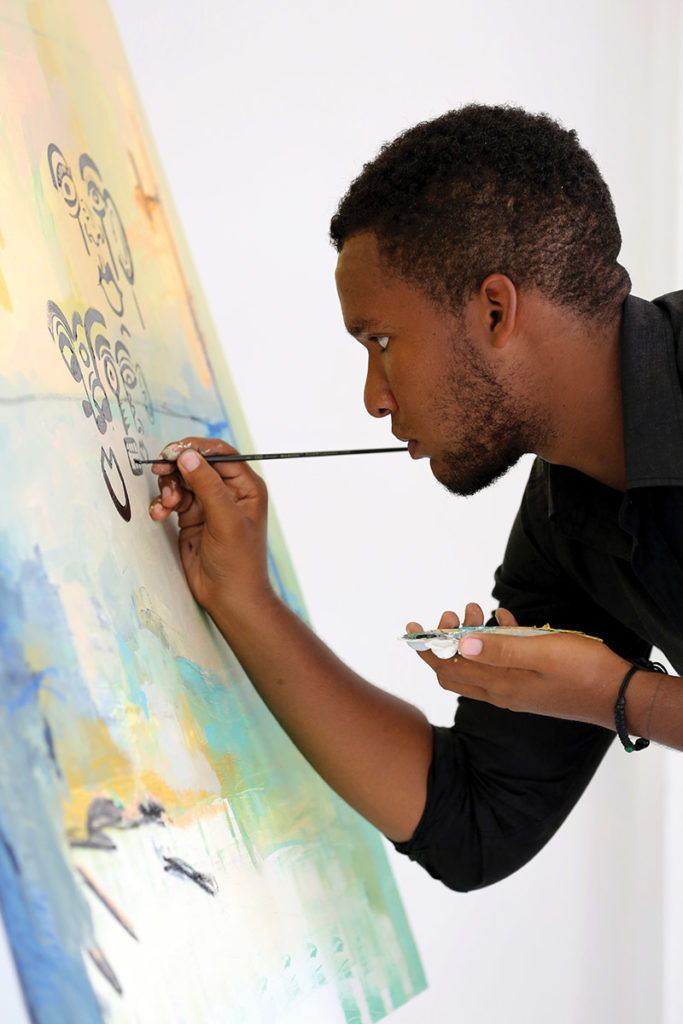 How did you get into painting I ask? "I was a drawer for the majority of my life. In 2017, a year after graduating, I realized my boredom with black & white, so I delved into colourful & vibrant oil pastels. Oil pastels became my new favorite and allowed me to take a more abstract direction." Two years later in 2019, he found his love for painting with acrylics and oil pastels. Fast forward to today and he is now exhibited at CMC, Grove Gallery, working on countless commissions and planning a show for early next year.
With young artists I am particularly curious to know what inspires them and who impacts their style. Brandon's list doesn't leave me surprised. I see a variety of connections in his work as he references artists like George Condo, Jean Michel Basquiat and local artists Ras Akeem and Ras Ishi Butcher. He clearly gravitates to abstract artists with bold styles and poignant storytelling.
The themes of his work vary slightly but most of his subjects are people. The reason for this, he says, comes from his background as a bartender. From behind the bar he spent a lot of time keenly observing his clients and has converted many into characters featured in his work. He has also added music, animals and birds when it becomes necessary for the narratives of his paintings.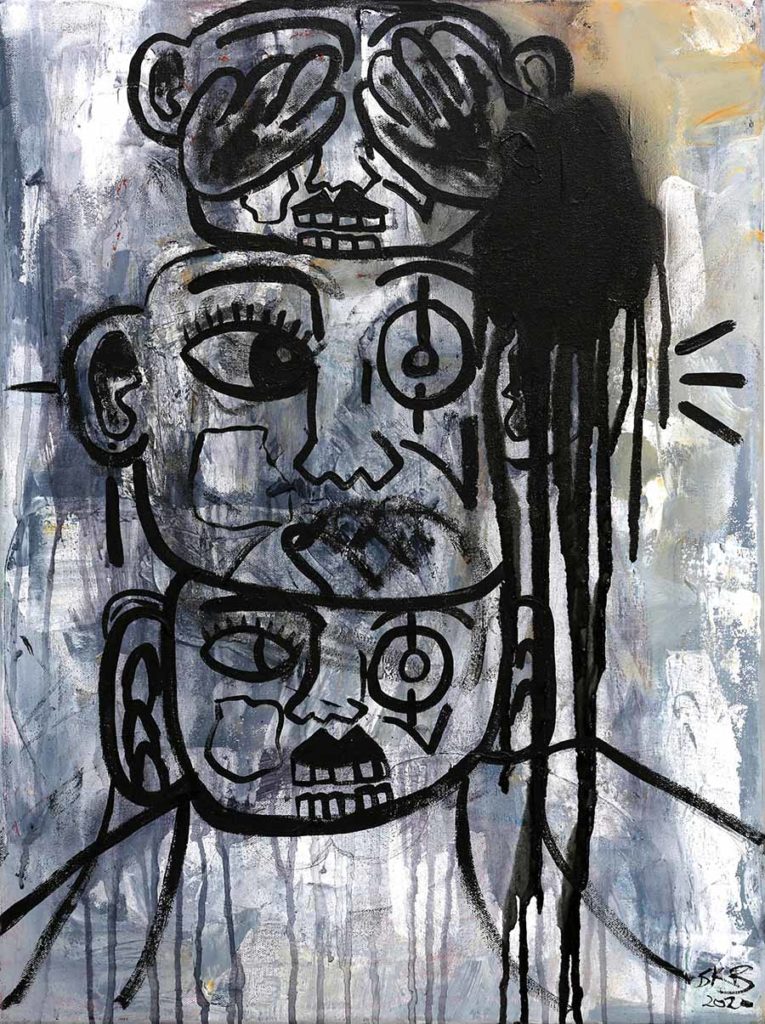 His work is striking and captures your attention right away. The most common first reaction he receives is 'I love the colours' followed by 'What were you thinking when you did this?' His answers are typically long and winding. A lot of thought goes into each piece creating a multi-layered account of autobiographical and fictional experiences. Encapsulating these chronicles is very much in line with the work of the artists he enjoys. His use of thick black lines is an homage to his background in drawing.
Brandon has been building a steady client list of buyers, most of whom he says are in their early 30s. "I have been blown away with the amount of support I have been receiving, and it is not just sales but messages from people who have seen my work and reached out to say how much they enjoy it." Besides locals, his work is now in private collections in the UK and the US and a steady list of commissions are keeping him busy. This pace is perfect for him as he describes himself as prolific with a constant need to create and produce artwork.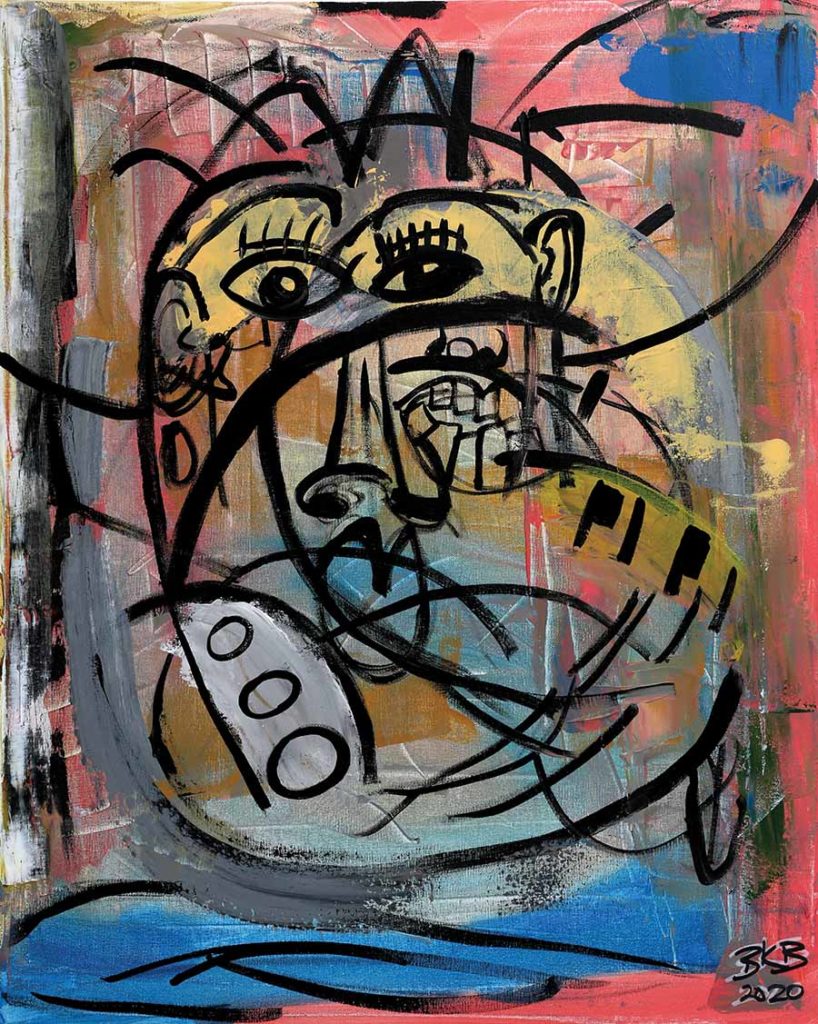 In addition to his artwork Brandon plans to continue his education. He has recently enrolled in the University of the West Indies to study Political Science and French.
One of his long-term goals is to be an art teacher. "I want to find something that is fulfilling personally and inspire young people like myself," he says. Brandon believes there needs to be much more work done to promote and encourage the arts, artisans and musicians. He is confident that current artists can play a huge role in promoting the industry from within and recalls how inspirational it was to get feedback and direction from his peers.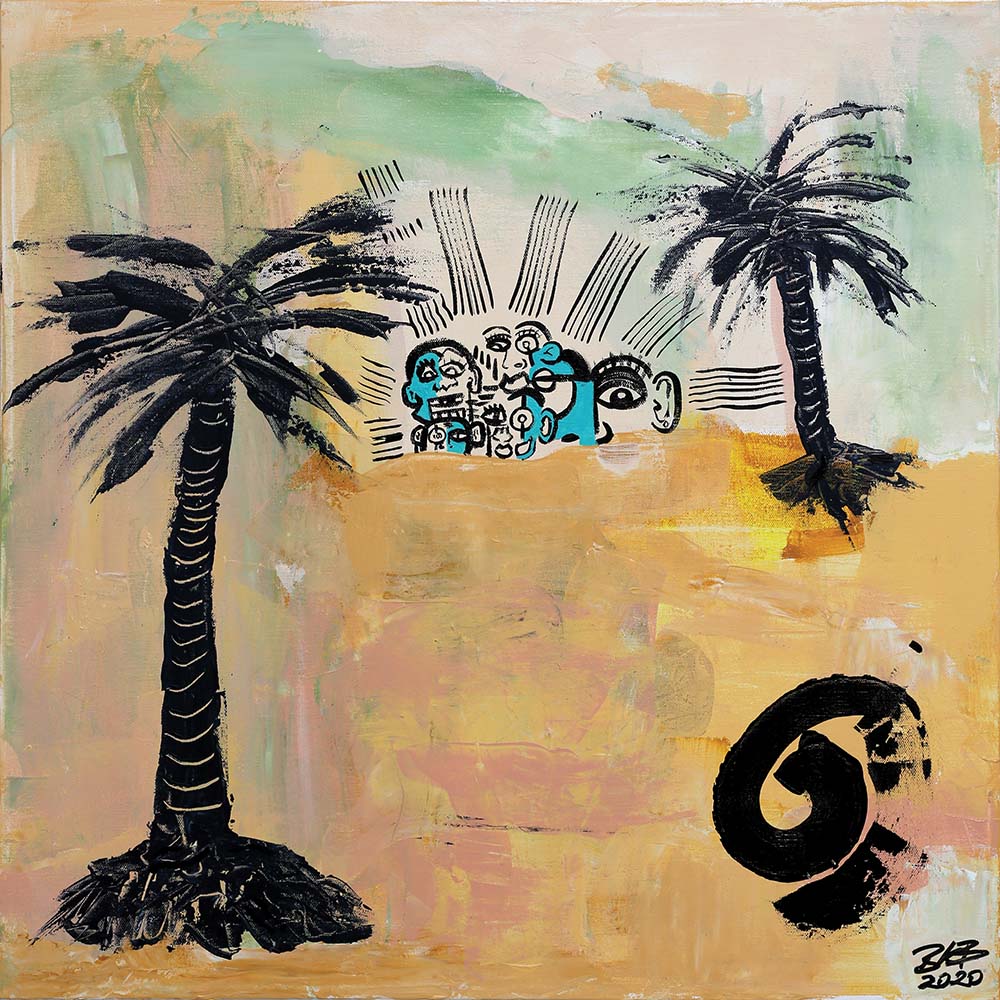 Outside of his signature paintings on canvas he also looks forward to exploring different mediums and projects from sculptures to clothing. For him, it is all about challenging himself and trying to remain as creative as possible. One piece of advice Brandon offers other young artists is to simply start painting and follow their passion. "Don't be scared to just put things down on the canvas," a statement he makes with exuberance. In a relatively short time his work has caught the attention of peers and collectors. A lot is expected from the young, smiling artist and his curiosity to explore new themes and passion to create is what should keep him growing.
As we finish, Brandon carefully collects the canvases he brought over to showcase and discuss. I ask him what he has planned for the rest of the evening and he smiles and says, "Paint!"