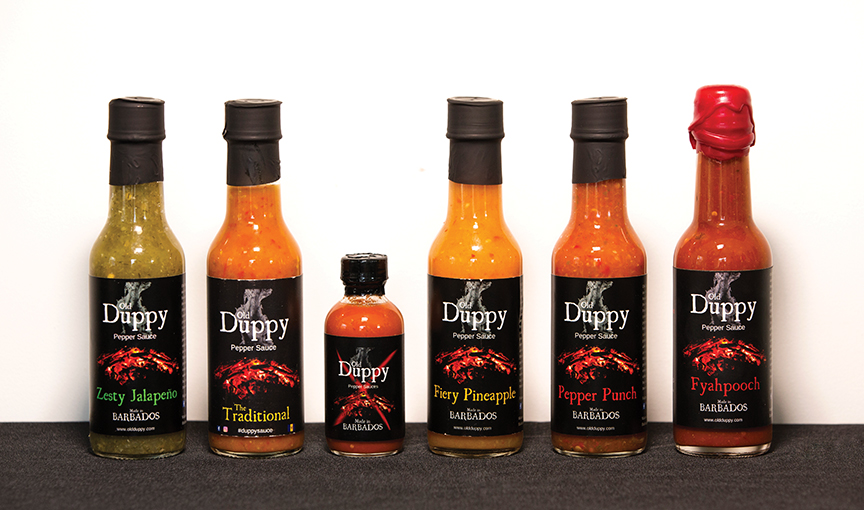 By Deidre Conway 
When you think of Bajan food you have to think about our greatest condiment, pepper sauce. Its usage ranges from chicken to cheese and almost anything between. We as a people love it so much that it is not uncommon to see someone pull a small bottle out of their bag when going to a restaurant or someone's house, just in case there is none available or of preference there. And, most people have a favourite brand they remain loyal to for years because of some perceived uniqueness in the taste or quality. 
In our food issue we take a look at a new addition to the array of throat ticklers and pooch burners we have on shelves today. Old Duppy is the new kid on the block but already punching way above its weight class. The creator and chef behind this new range of artisanal sauces is Nick Bynoe.  Old Duppy pepper sauce making only started last Easter, though he has always enjoyed and spent a lot of time in the kitchen. "Pepper sauce is a very traditional condiment in barbados and I wanted to push the boundaries a little bit." The process of creating his first successful recipe didn't happen overnight as there were many hits and double that amount of misses he explains. "I still have dozens of bottles in my fridge where I wasn't totally happy with the flavor. Luckily I have friends and family who love pepper sauce so these get used up quite quickly."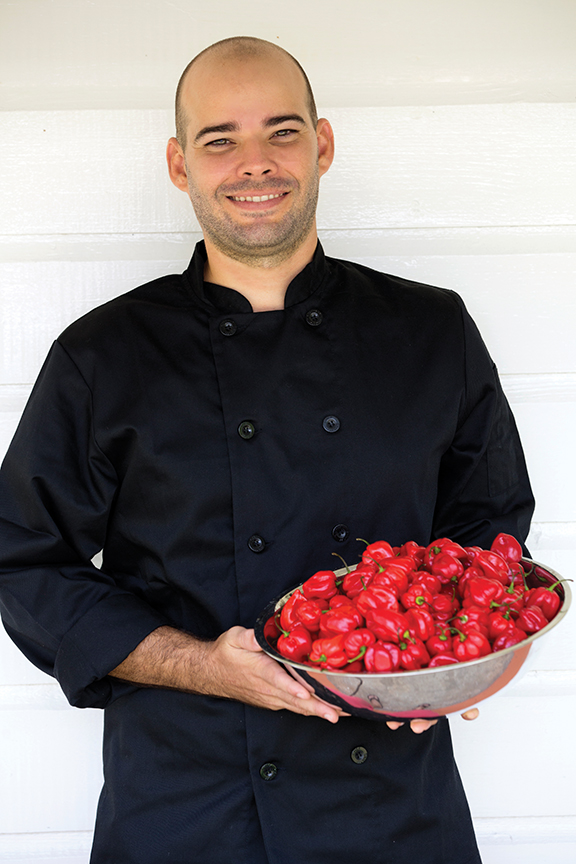 For Nick everything begins with the best organic products. "Right now I am purchasing most of my peppers and other seasonings from small local farmers but plans are on the way to convert some of the land around our facility and start growing here." The many recipes that make up his product line incorporate ingredients like jalapenos, scotch bonnets, cayenne, Trinidad scorpion and the Carolina reaper. 
Pepper sauce is essentially the combination of heat or peppers and seasonings for flavouring. Pepper is measured in Scoville units and sauces can range from 200 units to over 125,000 units for those using the infamous Carolina Reaper.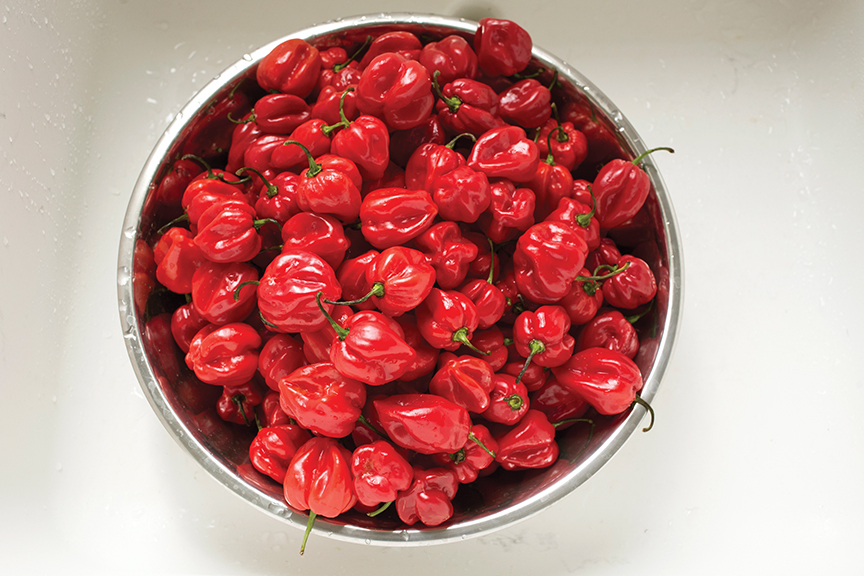 Old Duppy is breaking the mold with the wide array of flavours in their product line. They already produce six products and Nick smiles as he says, "I am working on some new ones all now." They have the traditional flavour profiles you would expect in a Bajan pepper sauce but then fuse in other interesting Caribbean flavours. One of their biggest sellers right now is the Fiery Pineapple. For the daring there are the X and Fyahpooch. These are definitely only for the connoisseur of extreme heat and not the casual dabbler of something spicy. Other products include Zesty Jalapeno, The Traditional, and Pepper Punch. 
Whether you eat it on Christmas ham or put it in beef stew, Old Duppy might be your new favourite really soon. It's a unique addition to the local pepper sauce line up. Start off with The Traditional or Fiery Pineapple and when you feel up to it…or lose a bet…try the Fyahpooch or brave the X. Enjoy the burn! 
Old Duppy is available at small stores around the island and by special order from their website, www.oldduppy.com.