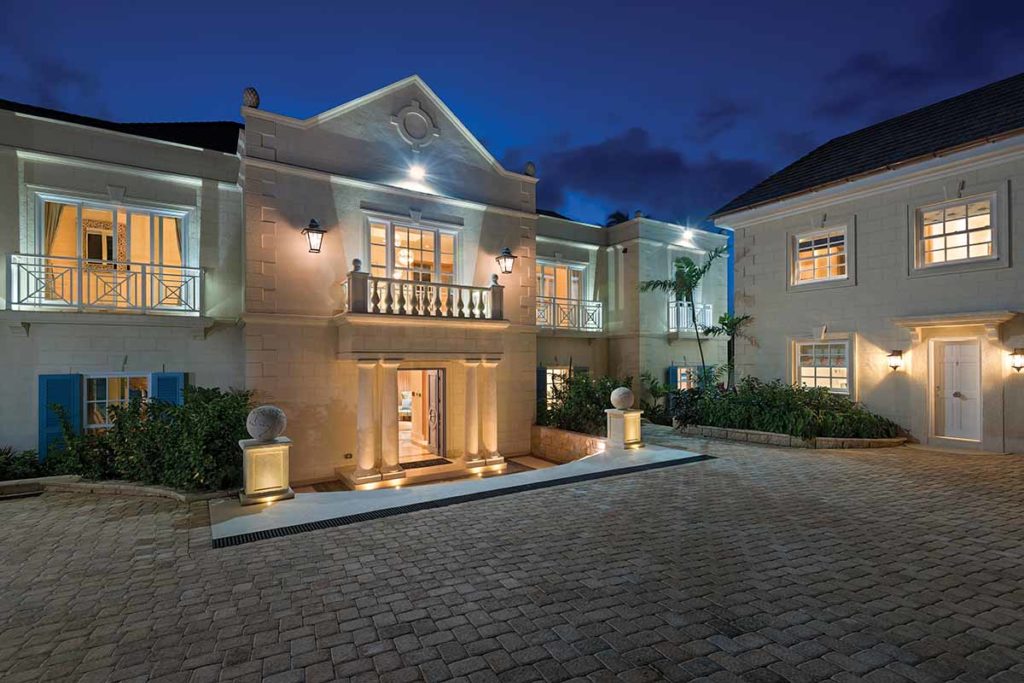 An emblem of unmatched beauty graces the platinum coast – it is the exquisitely designed Blue Lagoon villa, located in the exclusive The Garden/Mount Standfast area, which brings unprecedented levels of architectural genius to the prestigious neighbourhood.
This property exemplifies a tasteful marriage of awe-inspiring design and ingenious functionality. Your first steps onto the cobblestone courtyard surrounded by lush foliage initiates the astonishing experience. Set your body and mind to 'relaxation mode' as you venture towards the entrance, where large, teak, double doors open to a marble foyer.
Once inside, you are instantly engrossed by pristine views of the azure coastline. If you can resist its hypnotic allure, you would notice design features within the foyer like the elegant gallery staircase and the stunning set of cascading stainless steel and glass chandeliers above. The open floor plan allows you to survey the expansive space with a sweeping glance. To the north is a lounge with four plush sofas forming a U-shape around two glass-top tables that rest on artsy tree-like stands. Designed spaciously for optimal comfort, the living area exhibits a commissioned 7x5ft ocean-themed oil painting by a Barbadian artist and a stunning driftwood art piece with LED lighting behind it, creations that are part of the property's approximately USD$1.5 million worth of décor.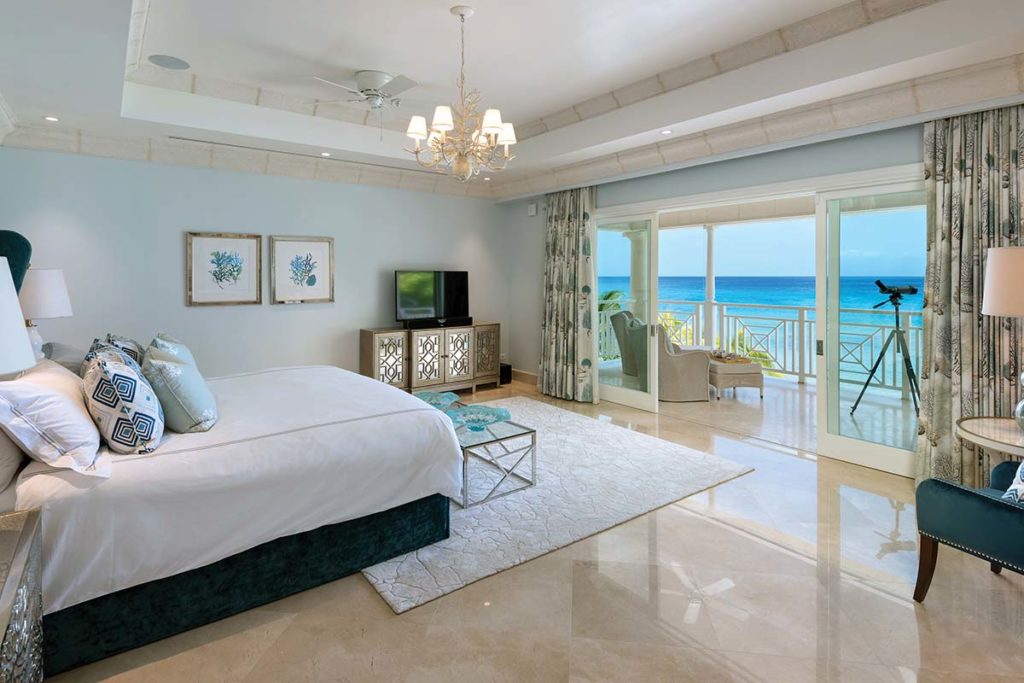 Inhale the crisp saline-scented air as you step beyond floor-to-ceiling patio doors and onto the full-length terrace. Now you have a closer view of the minimalist oblong plunge pool, perfect for playing water volleyball. Enjoy sun kisses while mingling on the terrace, perhaps with an icy rum punch from the fully equipped nearby wet bar. A few steps below the deck is a sandy bay, where a refreshing dip, relaxing beach walk, or snorkelling and paddle boarding adventures await.
The features of the sea are brought indoors with intricate tropical décor, from the starfish and seashell prints on the throw pillows to coral reef-shaped napkin ties. Mellow coral and beachy hues burst about the formal dining table, which has seahorses engraved on its carved coral pedestals. Hanging resplendently is a chandelier with porcelain fish that move like windchimes. Amidst this charming décor, you can savour a self-prepared meal or be catered to by wait staff serving delectable dishes prepared by chefs, who work out of sight in a commercial-grade kitchen downstairs.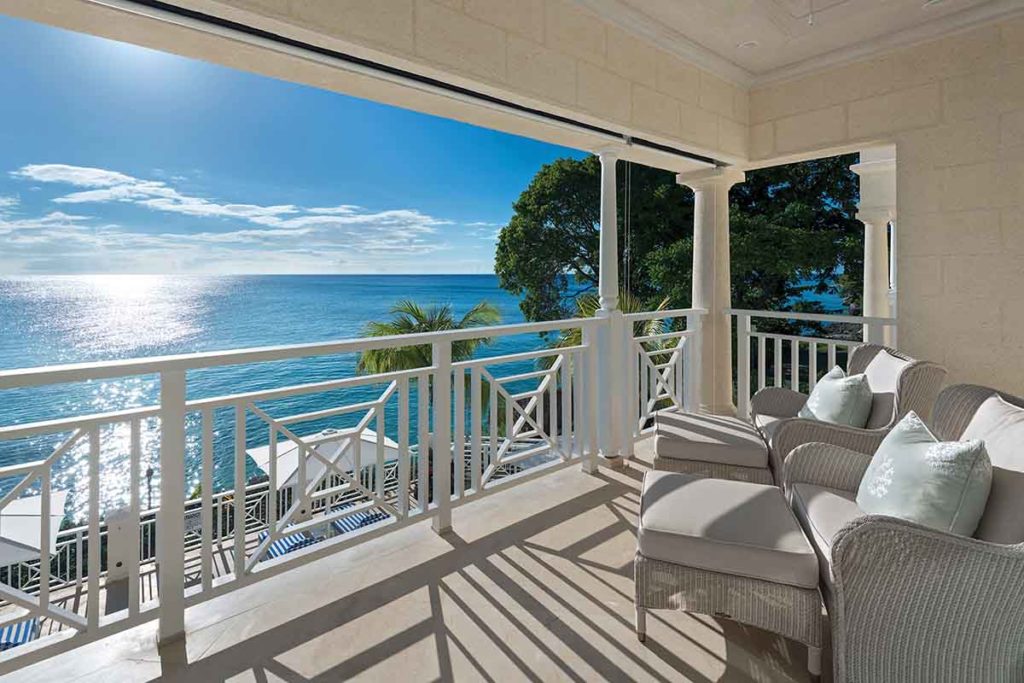 The cantilever staircase in the entry foyer provides access to the upper and lower floors of this classical colonial-styled villa. Climb the curved stairway and discover the Starfish Suite, Palm Tree Suite, Coral Suite and Turtle Suite, which are ocean-facing bedrooms inspired by Caribbean living. These craftily curated spaces feel like a waking dream. To let natural light in, their west walls are fully glazed with patio doors that lead out onto terraces with sun loungers. The Coral Suite, a 1000 sq. ft master bedroom, displays sea-based pictures and a fish sculpture, which makes it appear as though fish are swimming across the wall.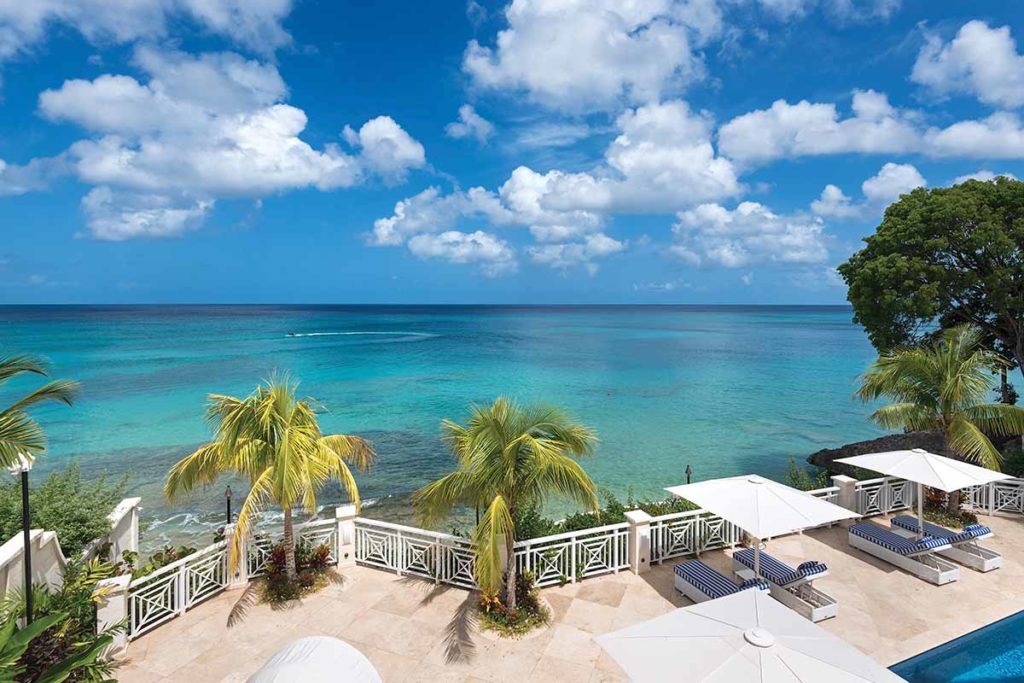 Retreat downstairs for an idyllic escape after a long day of outdoor activities! This level features a cellar bar, large format TV, jukebox, pool table, card table, cinema, spa, and gym.
Movie time will be a treat thanks to the high-resolution projection in the eight-seat theatre, which has dark aesthetic and chocolate brown acoustic panels, setting the perfect mood. There are two rows of four reclining leather seats with drink holders and foot rests that extend and recede electrically.
When you are ready to burn calories, visit the dedicated gym which has commercial quality weight machines, running machines, cross trainer machine, and a floor mat area for pilates or yoga. Watch your favourite workout videos on the full size 70″ TV screen or switch the scenery; have a yoga coach instruct you on the pool deck as you watch the sun rise and listen to the lapping of the ocean.
Step over to the Coach House next to the main villa for added privacy. The Shell Suite on the upper floor is especially attractive if you are travelling with young children, who may desire undisturbed daytime naps. This family suite has a crib, change table, en-suite bar, living space and a bathroom, while the staff quarters are on the lower level. For instance, a nanny or babysitter can lodge in the duplex apartment which has a small living area, kitchenette, bedroom and bathroom.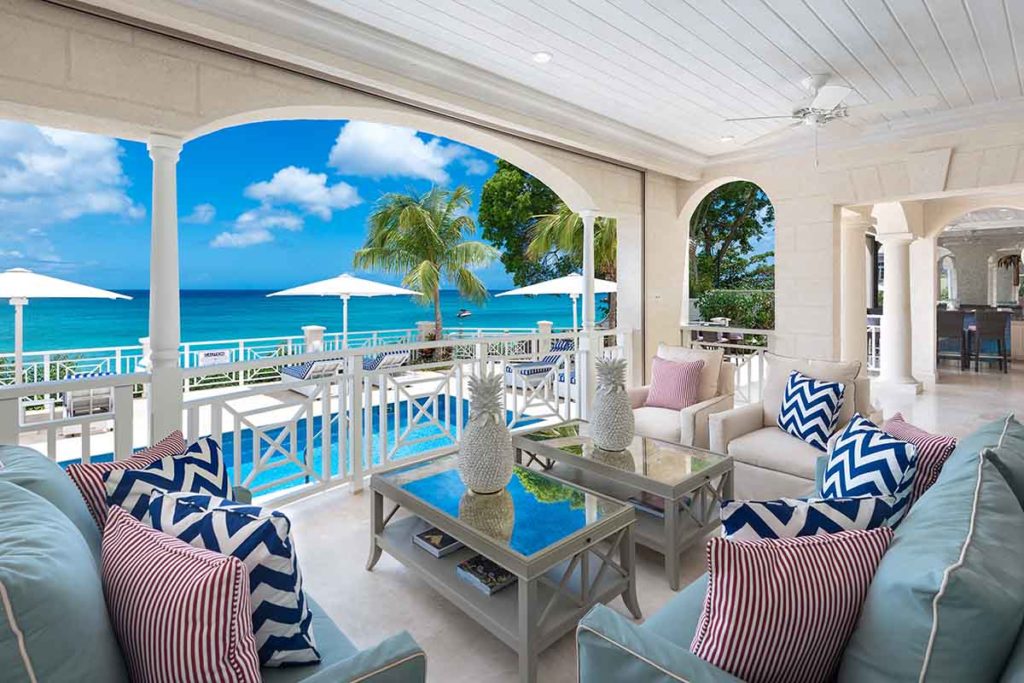 You set the pace and mood of your stay at Blue Lagoon villa, and technology makes it easy to do just that. With the multi-room Sonos system, you can play your favourite music anywhere throughout the house. This is controlled from your device or the villa's iPad. Create ambience with dimmer lights that go from no light to soft light and brighter light – it's all up to you! As for security, the property has strategically positioned cameras monitoring perimetre walls without encroaching on your privacy.
If you are craving a next-level luxury holiday experience, try unraveling the many layers of beauty at Blue Lagoon.