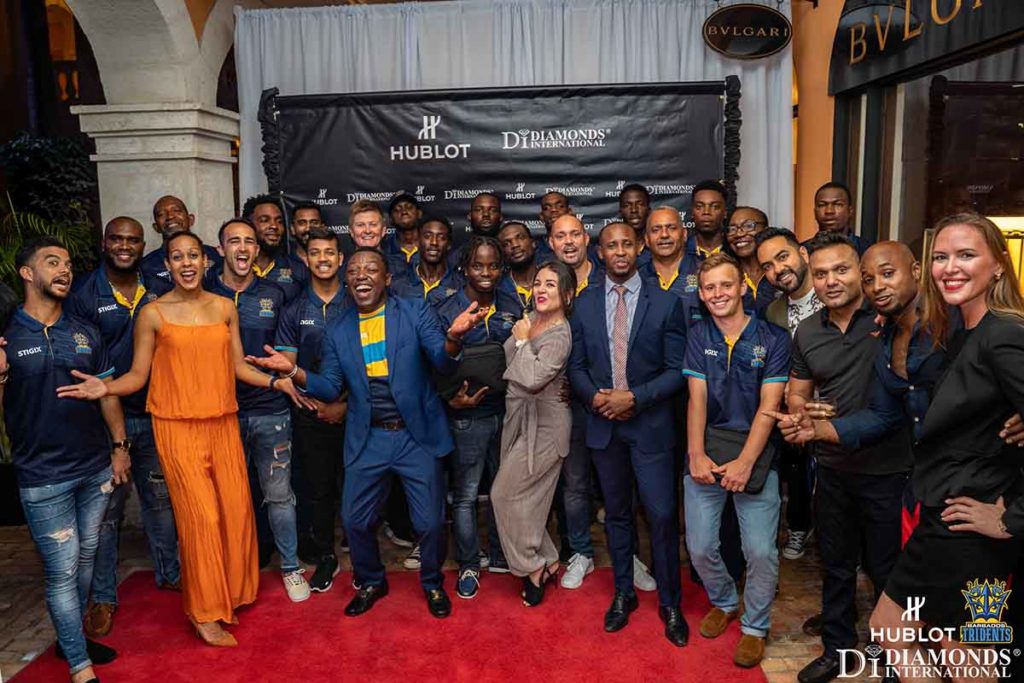 Diamonds International, with the support of internationally recognized luxury brand Hublot, are pleased to announce their partnership with the The Barbados Tridents 2019 team.
With capacity crowds expected for the Barbados leg of the Hero Caribbean Premier League (CPL), fan engagement will be high on the agenda, when the matches bowl off at Kensington Oval this month.
This year, five fixtures have been scheduled for the historic venue and in anticipation of an overwhelming public response, emphasis is being placed on initiatives to ensure that the spectator experience is optimal.
As such, Diamonds International will not only be awarding the 2019 MVP of the Barbados Tridents with a Hublot Classic Fusion timepiece, but fans will also have opportunities to win prizes from Diamonds International.
At a welcome reception held at Diamonds International, Limegrove Lifestyle Centre to announce this new partnership, West Coast and Limegrove Store Manager, Sean Walcott said, " We would also like to extend many thanks to Hublot for donating this Hublot Classic Fusion watch to the future MVP of the Barbados Tridents, as well as for joining us on this momentous occasion to collaborate. We express much gratitude for your time and efforts and for joining us on this special occasion to open up the season for the players/ sponsors and owners.
Diamonds International Barbados and Hublot extended to all of the players, owners, sponsors and coaching staff many successes and great wishes. Those sentiments were also echoed by Maria Fernandez Marquez, who said, "In Hublot we are passionate about Sports and true to our DNA of being the First, Different and Unique we are proud to be the first watch brand to work with the International Cricket Council. Timing is vital in Cricket. Cricket is a skillful, passionate game that brings people together from all over the world. Hublot shares this global passion and I'm thrilled that we can partner at this local level with the Tridents and Diamonds International.
New Co-owner of the Tridents Terrol Cummins, wanted it known that, "They are here to support the Tridents in any way they possibly can. My heart is full knowing where we started and where we plan to go.
We will make this a perennial event; an opportunity to build a brand and to impact and support a country, engaging a nation that rallies around a name, motivated young men and a winning team."
We look forward to supporting the 'Boys In Blue.'