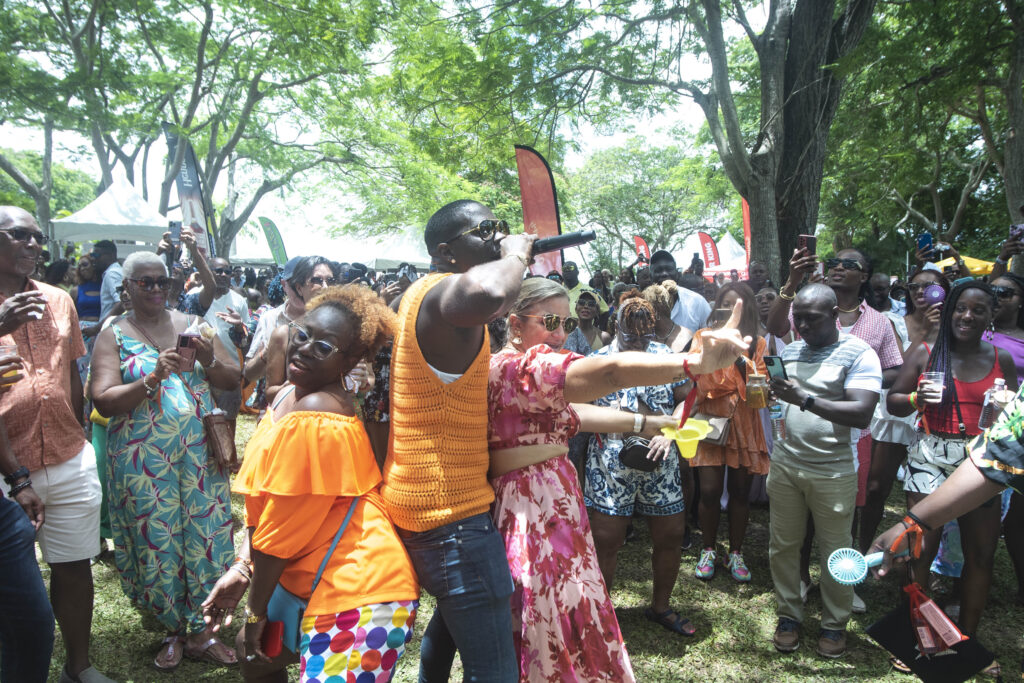 The 2023 Crop Over Season had a lot of competition – Road March and Kadooment, of course, but also which all-inclusive Breakfast fete to attend. Yet, despite the many options available, the Island Mas breakfast party continues attracting regulars and new converts. Under the theme "Tree of Life," the 2023 edition at the Bellevue Polo Estate provided culinary delights and good live music to a very enthusiastic crowd.
Richard Rollocks, one of the six founders behind Island Mas, shared the evolution of the party's philosophy. "We evolved from a core TriniBajan experience to embracing wider Caribbean expressions," he explained. This evolution has been a driving force in the event's longevity and its ability to attract a diverse and enthusiastic crowd. The party has  continued to attract a blend of mature professionals and lifestyle travellers by keeping premium drinks and delicious food. Island Mas is a party where the patrons look lovely and are there to enjoy the party and not just pose.
The 2023 "Tree of Life" edition was no different; premium drinks flowed freely, including the now famous "Smiley's Son Cones", which served the familiar cold, sweet treats in leaf-coloured cornets with generous splashes of vodka. Pineapple cocktails by Pina Cups were served in creatively carved pineapple bowls, adding a tropical touch to the celebration.
Instagram-worthy moments they enhanced the party, including photo booths with leaf swings and other cute signage. However, the highlight was the electric live percussion from the D- Unit Band in the party's centre and electrifying performances from Leadpipe and Saddis, TC, Stiffy, and Grateful Co. When Grateful Co's performed "Centre" and Leadpipe performed "Brain Freeze", everyone was dancing on the grounds of the party, and the energy never waned.
Island Mas continues to be a high bar on the packed Crop Over social calendar, an event that celebrates life and culture.