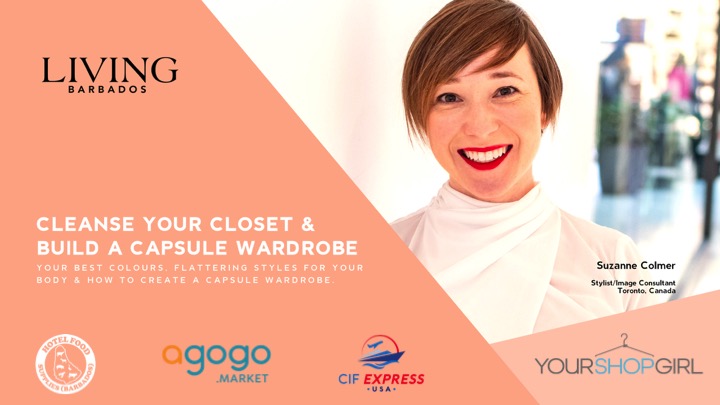 Do you feel like you have a closet full of clothes but nothing to wear? Maybe you have favourite pieces of clothing but they don't seem to match with anything else you own? Canadian Stylist Suzanne Colmer (www.yourshopgirl.com) treats our Living Barbados audience to a full run down on how to create capsules in your wardrobe making it easy to select an outfit including tops, bottoms, shoes, accessories and more quickly and easily. You'll always look put together and feel your best in outfits that radiate your style personality.
Capsules are not boring and colourless – simply that they combine a number of pieces that all go together. Suzanne breaks it down in her easy to understand pyramids and shows how you can create capsules for all different elements of your life from work, weekends and working out.
Along with Suzanne, Hotel Food Supplies and CIF Express come on to teach us about a hot new Rose wine, and a new service to help get your fashion purchases consolidated and safely delivered to Barbados.  Read on for more information:
WORK WITH SUZANNE:
Suzanne has a number of virtual services you can take advantage of from afar. The Q&A period of the webinar was lively, especially around topics like a virtual colour analysis and whether warm or cool colours suit your skin tone. Suzanne admitted when she had her colours done years ago it was life changing (so cute!). Suzanne can also assist you in reviewing your closet, creating capsules, making a shopping list for key pieces you might be missing and suggest appropriate items to order online.
Enter to Win!
Until March 15th, 2021, enter to win your very own virtual colour analysis from Suzanne Colmer. Visit the @livingbarbados instagram handle and share our Webinar Replay Post in your Instagram Stories. Tag us to be entered.

TASTE:
Try the Vallombrosa Terrasses Première Cuvée Rosé from Hotel Food Supplies. Krystle explains all about this fabulous wine – easy drinking, crisp and flavourful with hints of citrus. A very versatile wine, it goes with many dishes or can be enjoyed alone without food. If you're excited to explore a range of Rose wines, visit Hotel Food Supplies line up of Rose Wines.
SHOP & SHIP:
The team at CIF Express walks us through the process of creating a free shipping address in Miami. Buying from any website, consolidating your packages and forwarding them to Barbados has never been easier. Here's how it works:
Register for your free shipping address
Shop online and send your packages to your Miami address
View all received packages in your dashboard
Select your packages to be consolidated and packaged for forwarding to Barbados
Confirm shipment
Rates are determined by weight ranging from $1.90-$4.50 USD per lb depending on the total weight of your shipment.
Please note: the customer service team in Miami will open your packages and carefully inspect for any damages and consolidate your purchases for forwarding ($2.50 USD per package for removal of additional packaging). You can also insure your packages for $1.50 USD per $100 USD value. Customs clearance is also handled on your behalf for $17.62 USD for personal shipments + Duties and $37.50 USD + Duties for commercial shipments.
To speak to a customer service representative, please contact Justin Catlin at justin@cifbarbados.com or 246 832 2804.