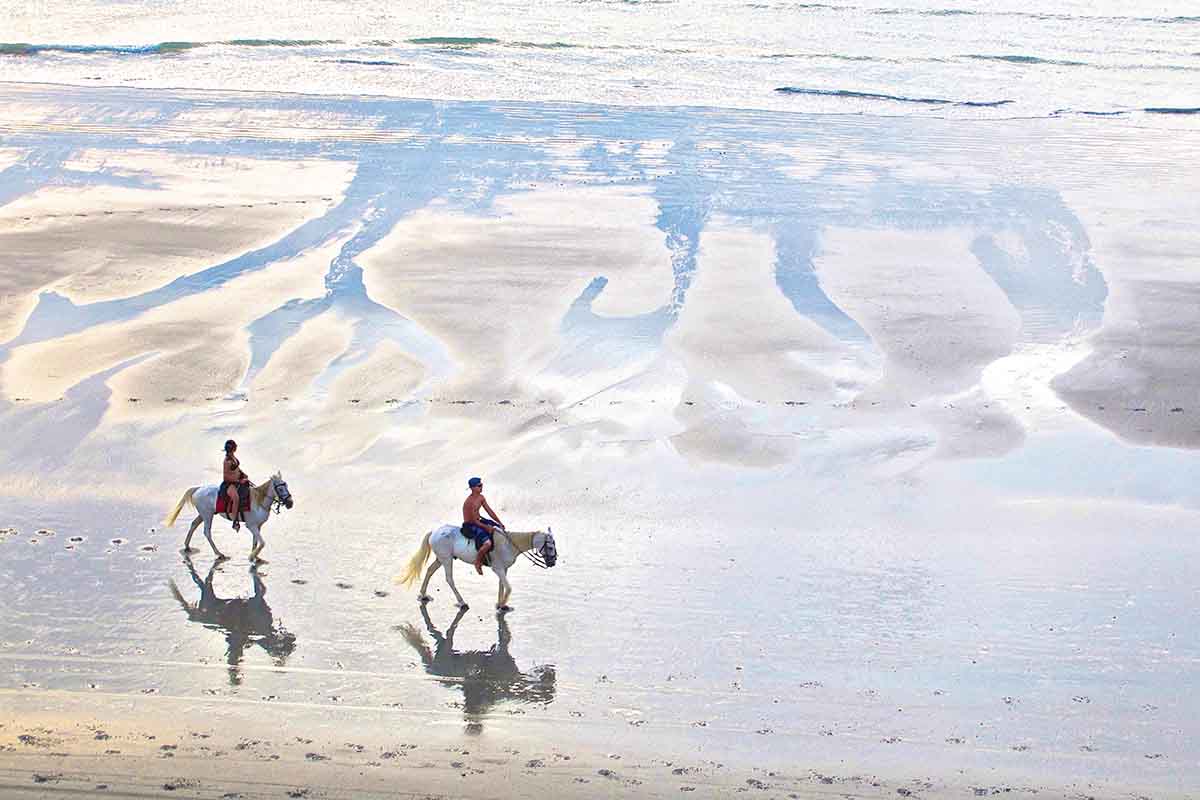 At the first wild donkey sighting, you know you're in for more than just a regular few days at the beach. Then, as you twist through sand and scrubland in a 4 x 4 skirting said donkeys, supply trucks and tricked-out dune buggies, the town of Jericoacoara appears out of nowhere, popping out from behind the dunes. It's a surreal experience, almost like you're auditioning for The Amazing Race.
This tiny beach town of 1,200, more commonly known as Jeri Beach, sits at the end of six-hour drive from the city of Fortaleza, in the Brazilian state of Ceará, with the last 45 minutes of the journey through the surrounding sand dunes. And what was once a sleepy fishing village with no electricity, roads or telephone is now a magnet for weekend visitors, surfers, college kids, honeymooners—and you.
This is the perfect Brazilian retreat, complete with kite and wind surfing, dune buggies and drivers to hire, surfing lessons to take, sand boards to rent for $1 an hour, palapas to sit under and beer to drink. The town's tourism boom is fairly recent history: Visitors started arriving in 1985, mostly surfers lured by the calm seas and high waves. Electricity followed in 1998, and the region became a national park in 2002. Because there are still no roads, all the supplies for each and every hotel and business is trucked in over the dunes or via a new regional airport that opened last year.
Get Out Of Dodge
There's not much to do in Jeri—but that's the point. The drill is to rent a dune buggy and driver for about $50 for a half day and trip around the sand, stopping at the local lagoons for a swim. September and October sees the crowds swell considerably with wind- and kite-surfing championships that take place when the winds pick up.
There are a few requisite photo ops you will need to tick off, one being the famous rocky arch at Pedra Furada and the nearby Lazy Tree. Speaking of which, sitting in hammocks in the water at Paradise Beach, a freshwater lagoon about 20 minutes from town, you can laze all you want and then some. Set up your headquarters at the Alchymist Beach Club, sharing big bottles of Brahma beer and ordering basket after basket of cassava fries, with the chill-out music washing over you from nearby speakers propped in the sand. There is a true beach vibe here: It's not expensive, not really commercial, and it has a sort of unfussy hipness that the Brazilians are famous for. This is where you will also do your best people-watching: The curvaceous women and movie star-handsome men cause continuous head-turning. Better bring the big camera lens.
Be Home Before Sunset
Make sure you're back in Jeri before nightfall, when tourists and townspeople congregate on the giant Sunset Dune at the water's edge west of town to watch the sun sink behind the horseback riders and determined sand boarders. This is one of the few places in the world where, on a good day, you get that green flash of light the moment the sun drops below the horizon, an optical phenomenon pertaining to the refraction of the sunlight and the thickness of the atmosphere lower in the sky.
This is also where you can watch the spins and kicks of kids performing the capoeira, a Brazilian martial art that dates back to the 16th century. Part dance, part game of combat, it is spurred on by singing chants and acoustic music played on traditional instruments. To say this is merely dancing would be an understatement.
After sundown, everybody wanders back into the town for caipirinha cocktails and steaks. Made with the sugar cane-based national booze cachaça, caipirinhas are a heavenly but simple mix of cachaça, fresh limes and sugar—the perfect start to an evening before the red wine flows. An almost carnival-like atmosphere emerges along the sandy, unlit streets as people weave their way through market stalls and beach bars, the ever-present smell of barbecue filling the air. You will be hard-pressed to think of a more perfect way to end the day. This little town is like a well-kept secret with a special spiritual charm, no doubt due in large part to the isolation.
And the wild donkeys? They're no dummies—grazing away in small herds, minding their own business. Once pack animals for the fishermen, they were turned loose dozens of years ago and now roam free. On your way out of town, you can understand why they never left. You won't want to either.
When You Go
Book your 4 x 4 return road trip from Fortaleza in advance. The new Jericoacoara Airport (Aeroporto Regional de Jericoacoara Comandante Ariston Pessoa) opened for commercial flights last year. Accommodations range from the sparse to the luxurious, with many points in-between. Places like the Chill Beach Boutique Hotel and Vila Kalango cater to more discerning tastes, but even the more value-oriented hotels like the Pousada Carcará offer prime comfort. There's no point in travelling so far and not taking at least a small tour around. Or a big one: Intrepid Travel offers guided tours to Jericoacoara within some of their Brazil experience packages.
Visit IntrepidTravel.com/Brazil
Story and Photos By Doug Wallace