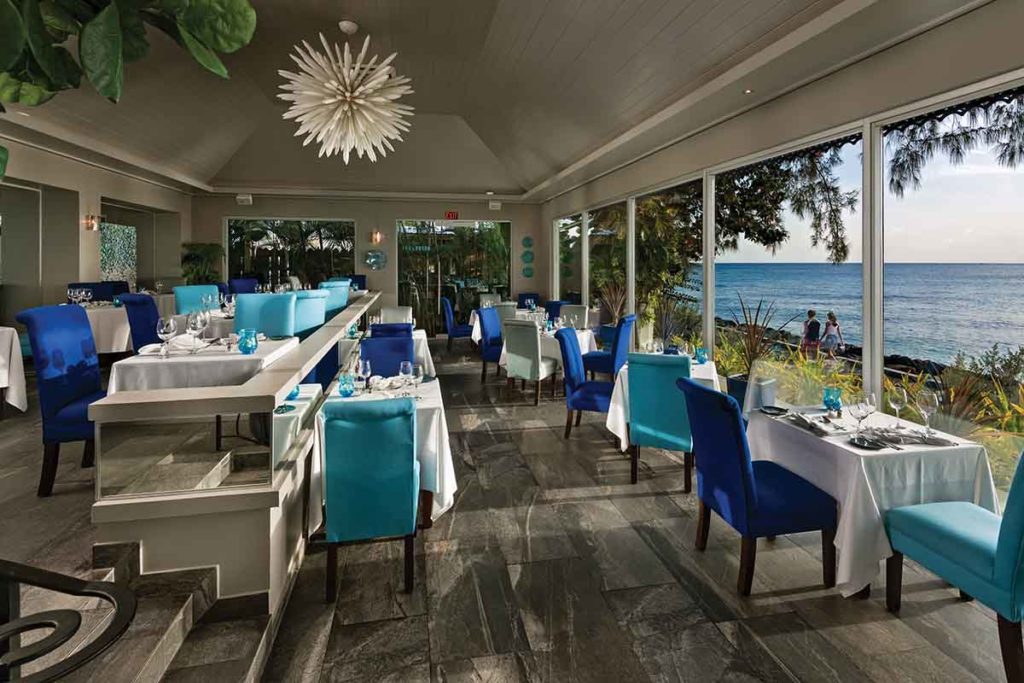 The Tides Restaurant's renowned status as a leader in fine dining attracts hundreds of guests, from Barbados and abroad, to its luxurious property on the west! Patrons who filter through the entry foyer expect opulent décor, displays of colourful Caribbean artwork and of course, mouthwatering cuisine.
A calming ambience permeates the establishment that has been managed by married couple Guy and Tammie Beasley since 2000.
Tammie, an avid art lover, is always brainstorming fresh, exciting ideas that add tremendous value to the service. Every meticulous detail in the restaurant is well thought out; from the way they garnish fresh seafood and flavourful West Indian dishes, design menu boards, and even present complimentary treats for patrons' birthdays – it's all done with a unique twist!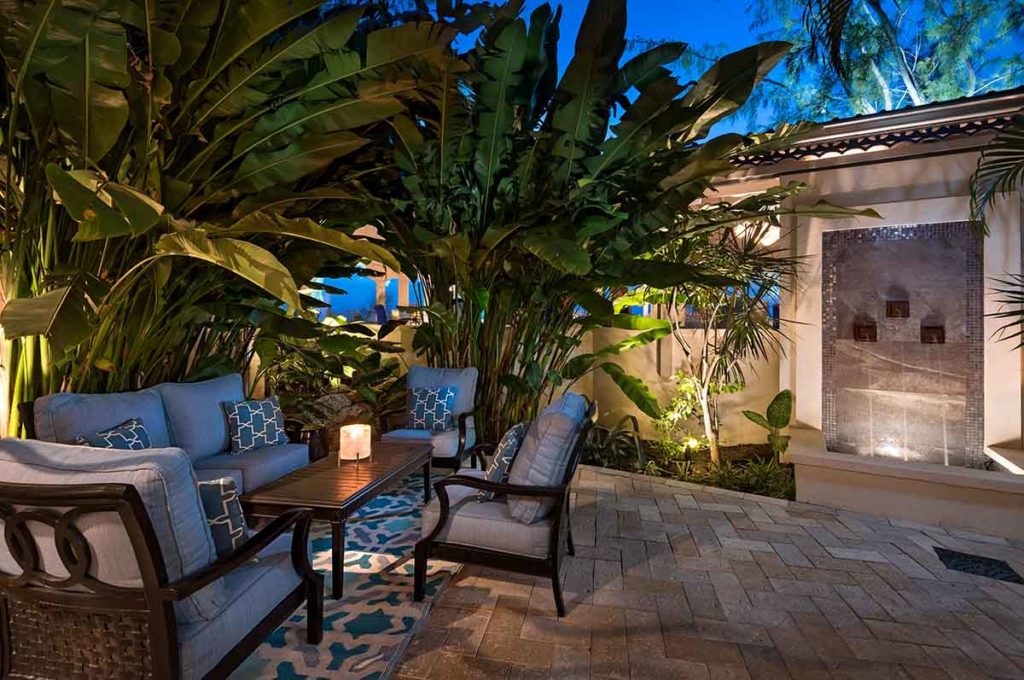 Tides Restaurant, having been renovated in 2016, is more spacious and elegant. Since the setting has been opened up, it also offers optimal views of the main attraction – the sea! Micheal Gomes Associates led the redesigning project that modernised the entire restaurant and Natalie Manning of Interiors by Natz' provided fabrics, furniture and accessories.
Coral stone walls and wooden shutters in the courtyard are two features that remain of Mannings Folly, a home built in 1945 upon which the restaurant expanded. And it's hard to miss the wide sheets of frameless glass doors to the right of the courtyard upon arrival. These doors lead to the chic air-conditioned bar with reupholstered leather seating positioned around savvy mirrored tables, and two large stainless steel and crystal chandeliers. Open-air seating areas to the north and south are purposefully reclusive to offer a private lounging experience.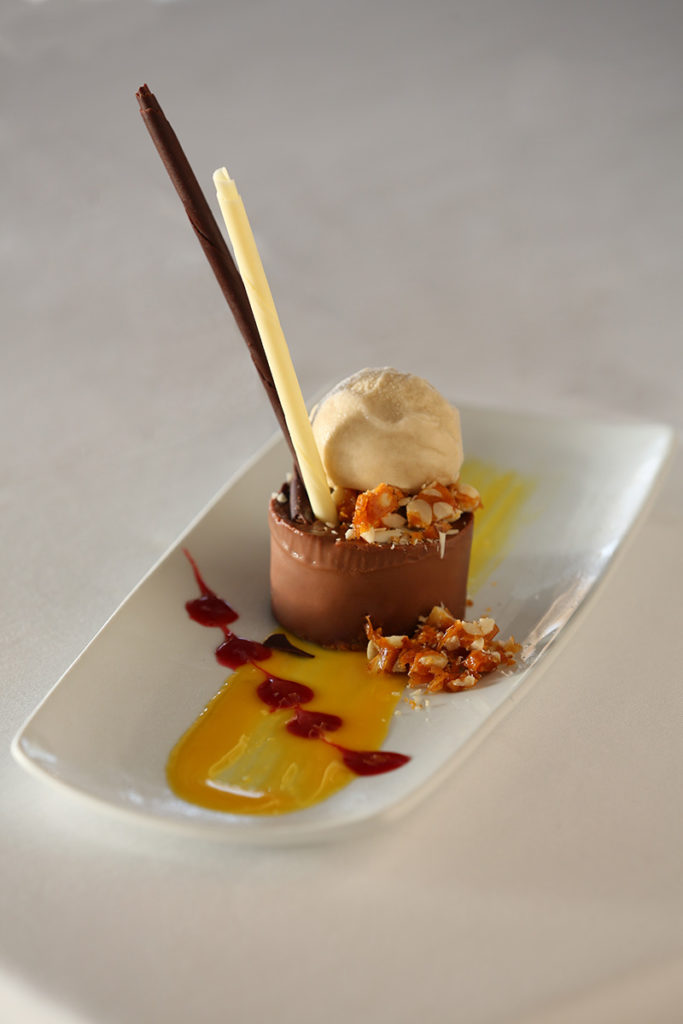 The four main dining quarters each have brilliant sculpture-like chandeliers, which are impactful during the day and especially stunning when they light up on evenings. The new air-conditioned gazebo designed with floor-to-ceiling windows, an elevated platform and mirrors that reflect the sea, is a favourite amongst locals. This room is ideal for intimate, special events like weddings. The elevated gazebo, central lanai and treehouse pavilion are exquisitely designed dining spaces that can accommodate parties of various sizes.
We can't speak about creativity without honouring The Tides' finest chefs. From the highly requested Tide Curry served in dried coconut shell to the hanging kebab presented with two sauces and a choice of risotto or salad, artistic flair is also exemplified by the Tides' diverse dishes!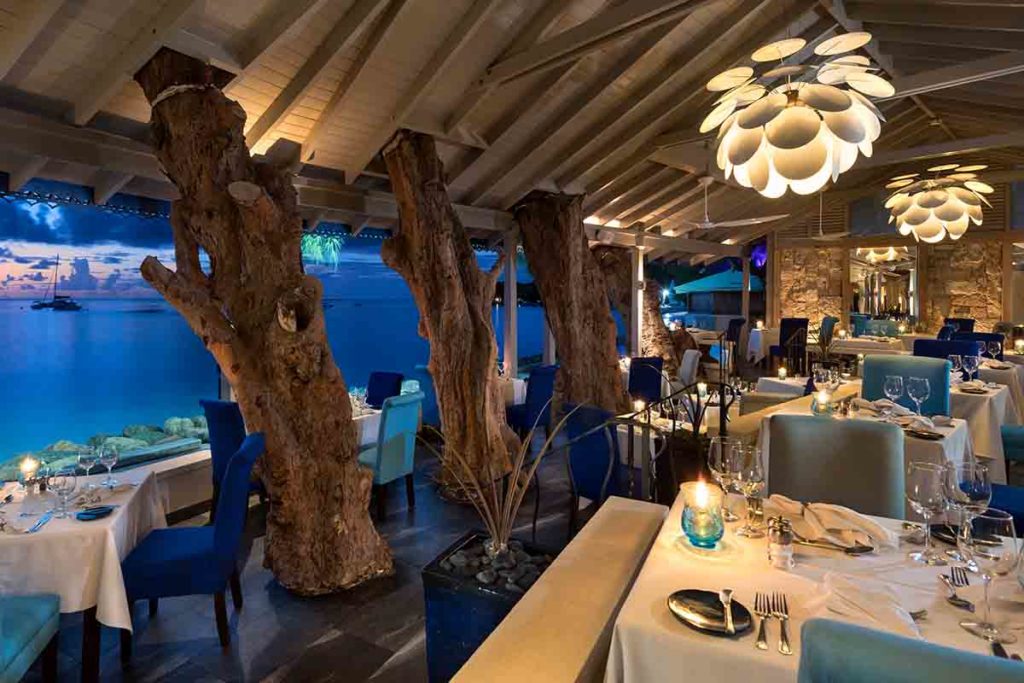 Hailing from a quaint English village called Pangbourne is Executive Chef Christopher Prow, whose expertise in French Classical cuisine is owed to rigorous training under Alan Fryer, his mentor, and 24 years of experience. His passion for his craft has grown ever since the career found him. "I fell into cooking," he admits, "then I spent four to five years in a French Classical restaurant. I spent 18 months in Nice, France. That's where my flavour profiles come from."
The kitchen is certainly where Christopher derives his purest joy. There, he strives to outdo his best efforts daily. The help of his competent team makes this challenging feat a bit easier. "We take a lot of pride in our product. We always try to do better than the last day – better than the last service," he says.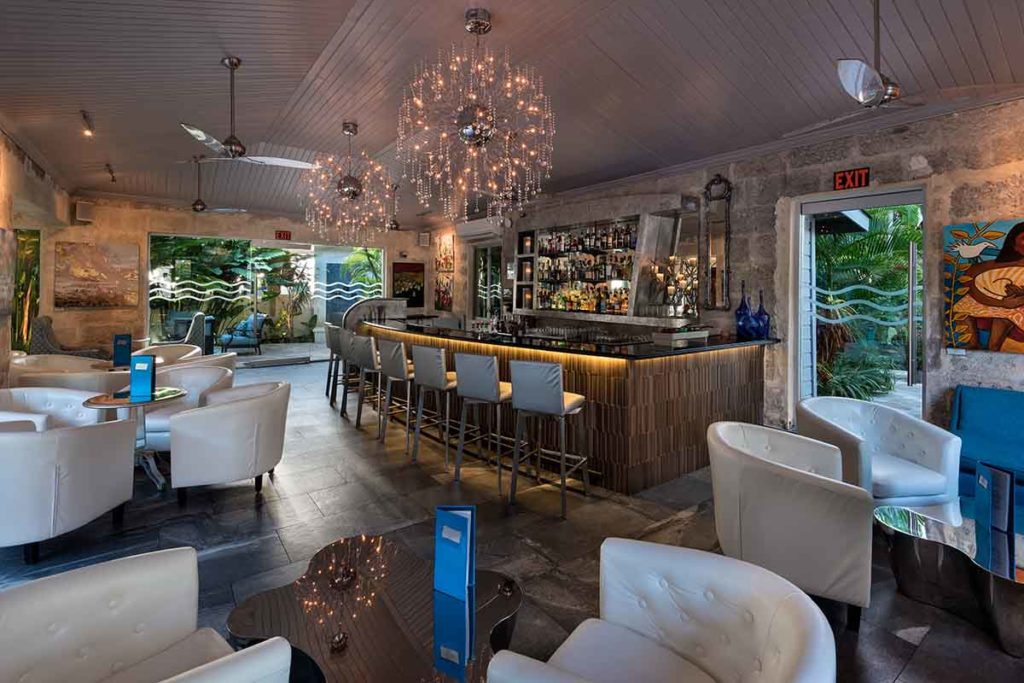 Head Chef Stuart Fawcett has never cowered from pressure: under his leadership, he maintained the Michelin Star status of a 5-Star restaurant in London for several years. The Yorkshire, England native has brought this resilience to the Tides, a restaurant with impeccable standards. "I've been here for two years now and I've come to learn how to work with the local people, which at first I thought I wouldn't be able to do because the kitchen back home is very regimented," he says.
Stuart, who envisioned his career at 13 years old, acquired French Classical training at Harrogate College and graduated in 1997. His motivation comes from working at "the number one restaurant in Barbados, which in my opinion we already are."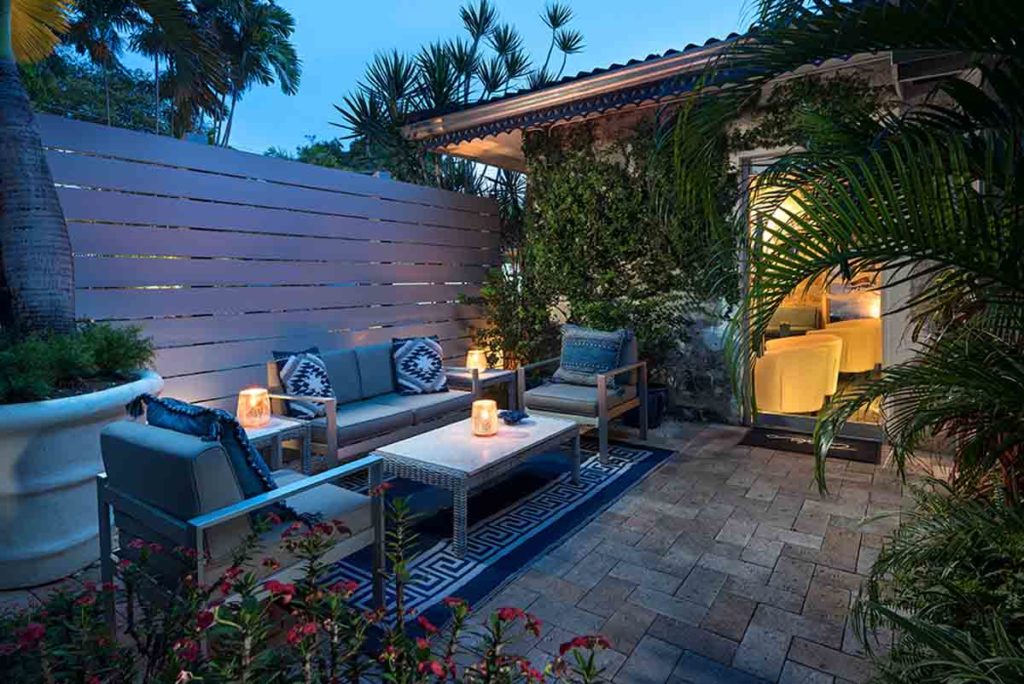 Roy Leon, a Sous Chef since 2005, has been a loyal member of the Tides team for 19 years. However, his history with chef/owner Guy is even more extensive. He explains, "when I first started working with Guy, it was for three years at Shack Shack, a restaurant he had before this one. I went to him and said I had no experience but was willing to learn. I was then trained on the job as a cook." During this time, Roy returned to school and by April 2000, he proudly held a certificate in Principles of Cookery from the Barbados Community College Hospitality Institute.
As Tammie puts it, "there's a lot of love" at the Tides, a warm culture that evidently fosters creative expression.