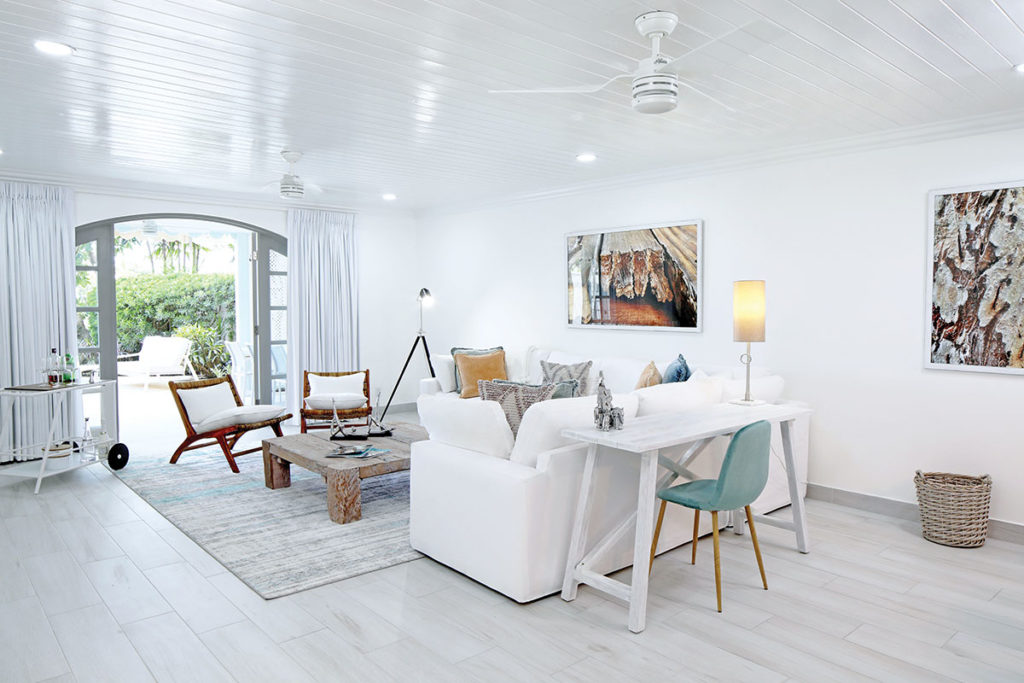 What began as a plain apartment in Speightstown's Port St. Charles marina development has now blossomed into a chic condo retreat. All it took was a little planning and a bit of creative gold dust – the kind only a true professional like Karin Truedsson can furnish. As owner of Walkers World, an interior-design paradise known for drawing inspiration from all over the globe, she was able to work her magic, bringing the objectives of the condo owner into clear view.
"We work a lot with clients who buy a property and want it both for investment and personal use," Truedsson says. "We always look at the balance between making the space fit for rental and yet evoking a strong sense of home that speaks to the owner."
It was a clear meeting of minds. The owners, Martin Reed and his wife, Patricia, have been customers of Walkers World for more than three years, popping into the store when they had a project to work on. When they bought the villa at Port St. Charles, they remembered a recent project Truedsson had been involved in that reflected the look and feel they wanted.
"My vision was to take a tired, dark and poorly laid-out space and turn it into the best property in the development," Reed says. "With some simple construction changes, we added light and a bright modern feel to the space. The master suite is truly breathtaking, with both sea and marina views." Purchased in April 2021, the villa is their sixth investment in Barbados.
Following a creative path.
"I have been carrying around a sketch pad and pencil since I was very young, and I always knew I was going to work in a creative field," Truedsson says. Upon graduating with a fashion-design degree in 1989, she opened her own design company, soon becoming a partner in fashion label Dingolay, designing and producing women's resort wear and activewear for the Barbados and Caribbean markets. Retail stores followed, which grew to three locations in Barbados.
Looking for new inspiration in 2007, Truedsson began working with Sue Trew, the previous owner of Walkers World, and was soon very much at home in the interiors and architecture world, designing and outfitting properties for Walkers World. After buying the business the following year, she began using her design talent and retail experience to custom-create spaces for both local and international property owners, working with some of the island's most prestigious hoteliers and developers.
"I believe the best designer is the one who listens to what their clients want to achieve, understands their style, and addresses both the function and aesthetic of the space to ultimately achieve the best result," Truedsson says.
Making each space unique.
As with all design projects, the process starts with developing concept boards that illustrate the visual inspiration – the styles, colour palettes and finishes. "It was important to us that the villa echoed the lifestyle of Port St. Charles, spoke to a wide audience, had cohesion, and told a story, using colours and textures that reflect our island," Truedsson says. "Each room was to be unique and we were mindful that the villa had to be able to accommodate a maximum number of guests."
After drilling down the details, the Reeds were really taken by the artwork and abstract photography, interesting pieces put forward to showcase the surrounding nature and waters. These were used to further refine the colour palette. Then when specific furnishings were chosen, Truedsson and her team brought all the elements together. "The Reeds were very hands-on and stayed involved every step of the way, allowing us to get to know them better as we worked alongside each other, making sure their vision for the project was carried through to the end."
Reed agrees: "The result is luxurious and uber-chic yet relaxed – modern, but with a traditional elegance. We put our trust in Karin, and together, with my input on the construction side of the redevelopment, we have created one of the best units, on its own private beach just a stone's throw from Pier 1. I've even changed the name of it from just '104' to 'Serenity,' because that's what I feel when I'm there."