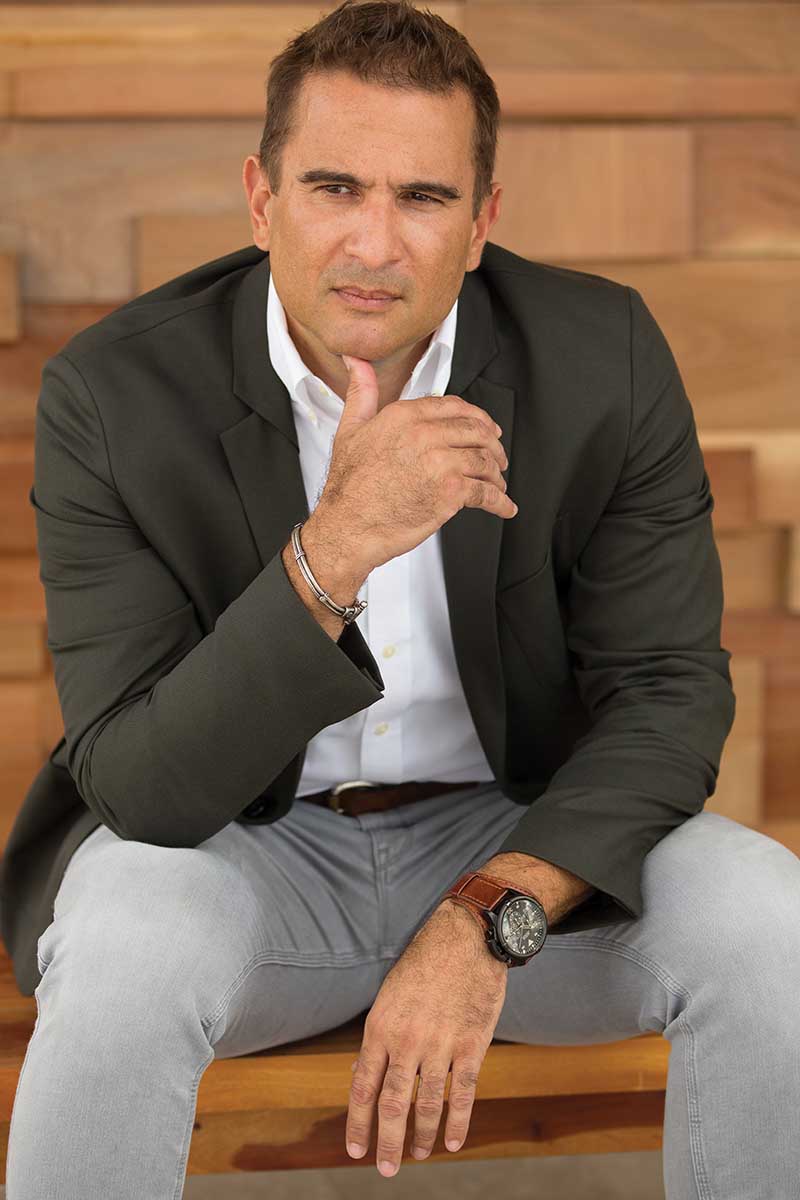 Pierre Tatem, the award-winning Director of Tatem Architects, is well known for his sustainable avant-garde approach to architecture. His distinctively edgy and out of the box designs are apparent in local projects such as the Rubis Headquarters in Warrens, Buzo Restaurant, Gildan, TD Bank, and Chefette. He has also executed various projects in the Cayman Islands, Jamaica, St.Vincent and North America. The team at Living Barbados caught up with the celebrated architect to find out what makes him tick.
How would you describe your signature style and influences?
I don't have a signature style but rather a design philosophy steeped in strong natural and architectural influences. I tend to gravitate towards biophilic design, which incorporates aspects of the natural world that contribute to productivity and human health.
I am undoubtedly influenced by my multicultural upbringing, having grown up in the Caribbean and Canada where I studied architecture at George Brown and The University of Technology. My earliest studies were in fine arts and as a result I am influenced by art in my approach to architecture.
When did you first become passionate about sustainable design and architecture?
Growing up in a Spanish-style hacienda with its open courtyard and intimate relationship to nature had a major impact on me. As a little boy, I would often sit out in the courtyard and look up at the stars. This was the first influence I can recall and it was extremely significant— it made me appreciate the balance that should exist between that which is manmade and the natural world.
What are some of the key selling points on sustainability that you use with your clients?
The first and most realistic approach to sustainable design is a passive one. This involves incorporating the climate and immediate surroundings into the design and using them to your advantage. This basic approach is the key selling-point and just makes the most sense regardless of whether you are trying to achieve sustainability or not.
How has sustainable design come to be at the heart of your practice?
Sustainability has been in my blood from the onset; I look back at my projects in university and see my desire from then.  As an architect it is just the best thing to do— those who live or work in sustainable structures are more physically comfortable and use fewer resources— after all, less energy used means less money spent. As an architect, I also have a responsibility to ensure that my designs improve their direct environment.
What makes Barbados an interesting or challenging place to experiment with sustainable design?
To begin, it's very difficult to achieve all the necessary elements that constitute the definition of sustainability for any project in a small country such as Barbados. Barbados has an amazing climate to practice sustainable development; however, its isolation as a member of the Small Island Developing States (SIDS) means that it has to import the majority of all building materials, placing it at a disadvantage from the point of view of the economics of sustainability.
What do you want to be remembered for?
For showing that architecture can be interesting and out of the box and progressive. Architecture must evolve as the world's dynamics evolve and that is why I do not restrict myself to one particular style or technique. I would love to look back knowing that the spaces I created helped to shape or change peoples' everyday lives— made their lives better— even if in a small way.