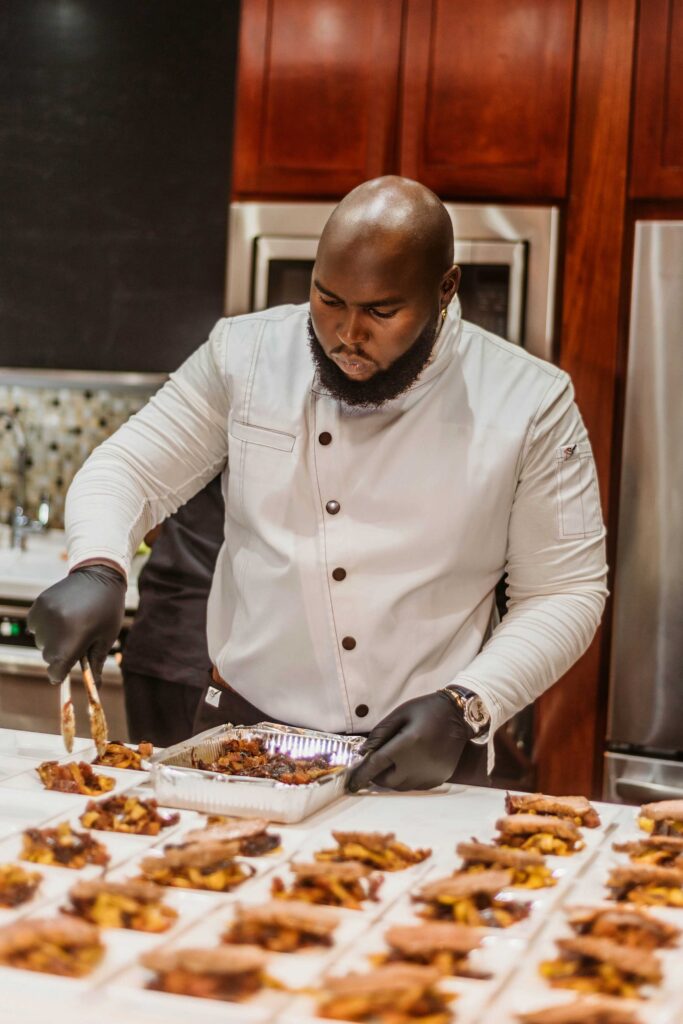 Chef Marvin Applewhaite is the personification of a foodie or as he would call himself, a "kitchen addict." Though his love for food and cuisine goes back as far as he can remember, Applewhaite concedes that the 'how to' was not always there,freely admitting that before enrolling into the Barbados Community College Hospitality Institute, where he attained his Associates Degree in Culinary Arts; he could "only fry nuggets."
However, with time, an eagerness to learn and a passion for the Craft that changed quickly. In his words: "I grasped all the knowledge I could with every experience that passed my way."
Chef Marvin Applewhaite admits from the start he always had a love for food but his skill was limited to only frying chicken nuggets. It was his desire to learn however that made him enroll at the Barbados Community College Hospitality Institute where he gained his Associates Degree in Culinary Arts.
Starting his professional career at The Hilton Barbados where he also interned, Applewhaite grew his culinary expertise while working at a series of well known, highly acclaimed food establishments in Barbados. These included The Cliff Restaurant, The Cliff Beach Club, 13 59 at Port Ferdinand and more recently, as one of the driving forces behind Pavao Restaurant at Sweetfield Manor Boutique Hotel.
Marvin is a member of the award winning Barbados Culinary Team and has represented Barbados at Taste of the Caribbean in 2014 and 2016; winning many team accolades including the bronze medal in the 2014 Seafood Competition at the age of 19 while still a junior chef.
After 10 years in the industry he is currently the Chef de Cuisine at Hilton Barbados; heading the La Cabane South Restaurant. Also he is the Director at T.Stoute Inc.; a luxury culinary services company. We stopped by his kitchen to chat about his passion for food.
What is your favourite ingredient?
This is a tough one, but I think my favourite ingredient would have to be salt, because most things need a bit of seasoning in the end. You can cook up a storm and without seasoning people will still say it's bland. Contrary to popular believe, salt is not salt; my salt of choice would be Kosher salt because it seasons and compliments the flavours without being overly "salty" and the feel of the granules are usually a bit larger and make for a more even season across proteins too! As for a flavour ingredient, I would probably say coriander; I use fresh coriander a lot!
Who were your favourite cooks in your family when you were growing up?
That would be my mother, Margot Applewhaite and my aunt, Gloria Alleyne. "FLAAVAAA!"
What is one of your most memorable meals you have plated?
It's hard to pinpoint just one but I'll go with one I did recently. It was an eight hour casuarina wood smoked beef brisket served with aunt Gloria's jug jug and crispy leeks, finished with horseradish cream and cherry tomato confit. This dish sums up my culinary style. I love using fresh ingredients from local farmers and that's where I sourced my beef brisket. I have a love for wood fire cooking and smoked meats so that showed with the application to the brisket. I also enjoy incorporating traditional delicacies and that showed with my pairing of the jug jug with the smoked meat. This dish like many others I put forward always show my style and what I enjoy most, taking internationally known dishes and techniques and fusing them with the best local ingredients, flavours and delicacies.
If you weren't a chef what would you be?
If I were not a chef I would be a racehorse trainer. Horses and horse racing is a passion of mine for as long as I knew myself. When I was younger I would cry in an effort to have my father take me to the racetrack early in the morning to watch the horses exercise. I had the dream to be a jockey before any thoughts of being a chef. But needless to say if you look at my body you would understand why that dream isn't a reality! I was blessed to get involved in the industry first hand, when a life long friend of mine who was already involved asked if I would be interested in investing in a racehorse with him a few years back. This is a now 6-year-old gelding by the name of War Eagle that I happily co-own. I intend to be more involved in the sport in the near future as well. Racehorse training is still on the cards!
What is your favourite food to eat?
My favourite food to eat is anything quick! More preferably if I do not have to cook it! Seriously though, I like simple Bajan cuisine – rice and peas with a nice stew and baked lamb or chicken, coleslaw on the side! I love pork ribs when done right and coming off the bone! You can't beat Bajan food.
How do you think you can elevate Bajan food?
I think the style of cooking I do elevates Bajan food in a couple ways. It brings traditional dishes and flavours we love to be more refined and presented in a more international way. Barbados is known as the culinary capital of the Caribbean to many and by taking internationally known dishes and continuing to put our local twist and Caribbean flavour on it, it makes our flavour and culture easier to try and adapt to for those who have never tried it before. It also sparks interest from locals who are familiar with certain ingredients or traditional delicacies as they are getting these dishes in different forms and applications. The way I cook is also more sustainable as I try to use fresh and local as much as I possibly can. Better and fresher ingredients mean better quality food and it's good for the farmers to know they have an outlet for their produce. And it is not only me, they are many, many talented chefs in Barbados who are also adapting a more farm to table approach to their menus.
Conkies with raisins or without?
Definitely with raisins!