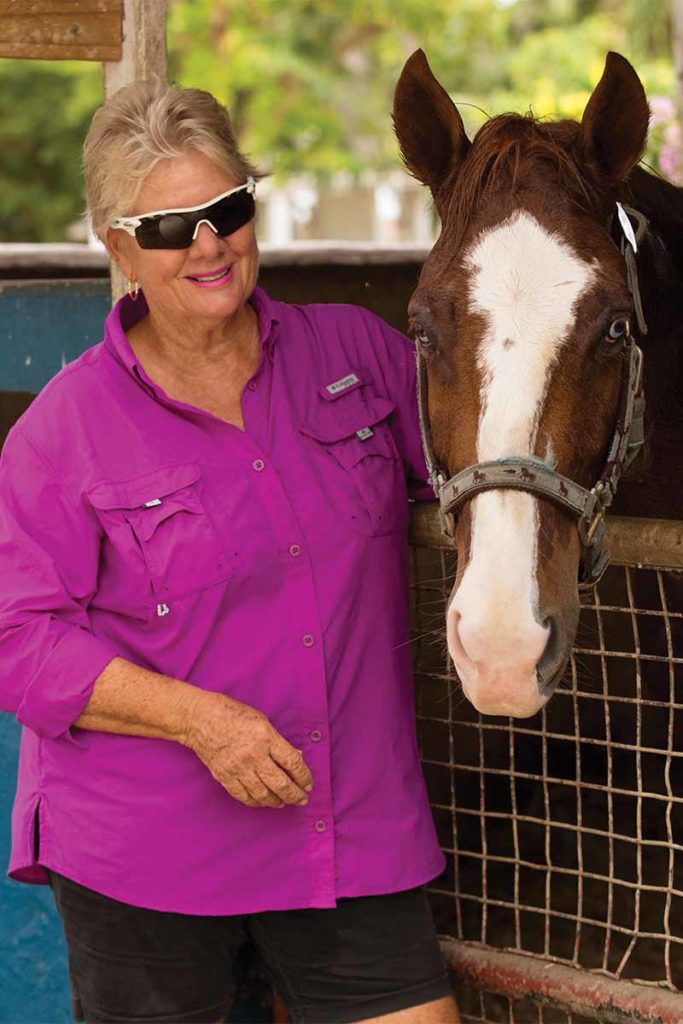 Even as a first time visitor arriving at Big C Stables in Frere Pilgrim Christ Church, it feels like coming home. Diana Clarke and her riding stables are more than just an institution in Barbados. Mucking around in the stalls, learning to tack up horses and jumping in the ring has been a right of passage for hundreds of students who have spent a large part of their childhoods with 'Auntie Di'.
Di is the past President and current Jumping Chairperson of the Barbados Equestrian Association as well as the President of the Caribbean Equestrian Association. Having coached horse jumping in her current location for thirty-eight years, Di is now starting to train the children of her former students. "Sometimes seeing my students all grown up reminds me of how old I am. But I feel so young! Its only when I look in the mirror and see the old lady I am caught off guard." Di says shaking her head in disbelief. As spry as ever, it doesn't appear Di will be slowing down any time soon.
While she may be young at heart, Di's experience and wisdom is immediately obvious when you see her in action. She moves with ease among her horses and knows each of their personalities, what will quiet their whinnies and coax good behaviour. She is equally skilled at reading her students and understanding how to motivate them to push themselves to reach new heights. Jumping can be unnerving for inexperienced riders. Horses can sense hesitation in their companions above causing them to refuse the jump and disappoint both parties. Di has not simply been training students to ride but continuously perfecting her craft as a teacher, a horse trainer, a mentor and perhaps most importantly a nurturer for both humans and horses.
Di would not pick a favourite horse of the twenty-three currently in residence at her stables. Instead she remarked, "Invariably I have the soft spot for the ones I have bred. I raise them, break them in and nurture them."  Her students are also transformed over their time at Big C. Parents of young students remark that they see gains in confidence as their children overcome challenges and learn discipline and time management under Di's firm tutelage.
Her students have gone on to compete at the Pan American Games, train with illustrious equestrians such as Ian Miller of Canada, groom horses at the Olympics and become successful jockeys. One thing the years have taught Di is that people ride for many reasons. "Not everyone wants to compete, and that is ok," she says. Some students simply love to be around the animals, others enjoy the social aspect. One enthusiastic student was quick to answer that her favourite part of lessons is playing games like Musical Poles and French and English.
We eventually did manage to pin Di down on her favourite horse, coincidentally her first. Gifted to her by her uncle and polo player, Mark Edghill, Domino was a chestnut gelding of solid build. She reminisced about his cheeky personality, tell tale signs he was about to buck and remembers imagining she was riding on a cloud given his incredibly smooth gait.
Looking back, Auntie Di confirms without pause "I would do it all over again".  She runs a tight ship to ensure all of her students and horses are safe but it is clear she has a softer side. "When an adult comes by and tells me some of the best years of their childhood were at Big C and that our stables were their haven it brings me to tears every time! What more could I ask for?"