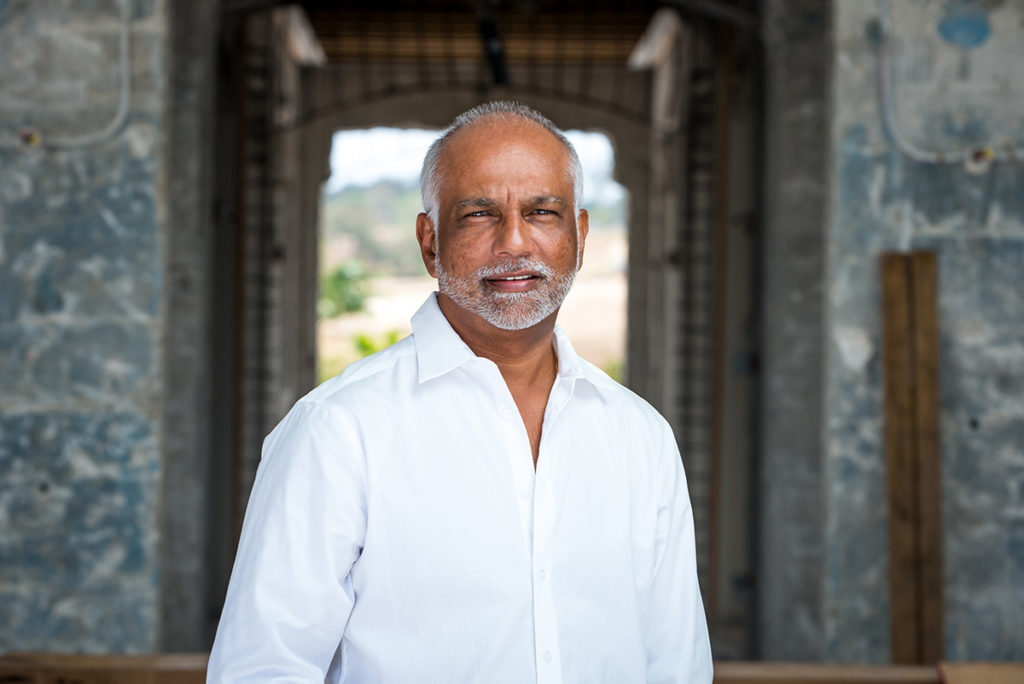 Expectations are high as Sunil Chatrani takes the lead at Apes Hill.
Apes Hill development announced veteran tourism executive Sunil Chatrani is now a
shareholder and has taken up the leadership role as its Executive Chairman. Chatrani, former Chief Executive Officer of the Elegant Hotel Group, is building the team to
relaunch the 450-acre site, currently undergoing significant redevelopment, and scheduled to reopen in November 2021
Transformative Leader
Chatrani has more than 30 years of experience in finance, tourism, mergers & acquisitions and strategy, in Barbados and throughout the region. "Sunil is a visionary, trusted and proven leader," commented Glenn Chamandy, who purchased the assets of Apes Hill in early 2020, "His market knowledge and strong relationships are exemplary, he is ideally suited to drive the future success of Apes Hill. I look forward to working closely with Sunil, and to the upcoming opening of our fully renovated golf course including our signature 19th hole."
Known as a transformative business leader, as CEO of the Elegant Hotels Group, Chatrani
focused the Group's overall business strategy leading the team that took the company public on the London Stock Exchange. In 2019, he then oversaw the Group's successful sale to Marriott International.
Growth and Potential
Commenting on his new role, Chatrani said, "I am inspired by the incredible potential Apes Hill represents, so much so I am not only taking on this role as Executive Chairman, I have invested in this unique project as a shareholder. The redevelopment of Apes Hill will bring a modern-luxury, environmentally responsible resort community that is unmatched in the Caribbean." He continued, "The team is positioning Apes Hill Golf and Beach Club as the best place to live in Barbados and the best golfing experience in the Caribbean. Combined with a world class luxury villa rental offering, this creates an un-paralleled new contribution to the Barbadian tourism product."
Chatrani went on to highlight the scale of the project, "In addition to the transformation of the golf course under the stewardship of legendary course designer Ron Kirby, we are building 80 homes on new lots, with 100 additional homes also expected to be built, all with a forecasted value of over US$500,000,000. We currently have 75 employees during this COVID period, but as we ramp up construction over the next six months, this number will grow to a few hundred." Most recently, Chatrani served as the Chairman of both the Barbados Tourism Marketing Inc. and The Barbados Tourism Product Authority. In this role, he guided the entities responsible for marketing Barbados, developing its tourism product and the cruise and airlift into the island.  Previously Chatrani, as CFO of The Barbados Shipping and Trading Company Limited (BS&T), was involved in several meaningful acquisitions, most significantly the cross-regional public company merger between BS&T and Neal & Massy. Other career highlights include being awarded, by the Caribbean Hotel and Tourism Association, The Caribbean Hotelier of the Year for 2019 and he served in roles as Chairman of the Barbados Hotel & Tourism Association and CEO of Bahamas Supermarkets Limited. He also worked with UK based Commonwealth Development Corporation developing the Jolly Beach Hotel in Antigua.
Redevelopment Highlights
The redevelopment of Apes Hill commenced in late 2019 and includes a respectful
environmental approach for sustainability. The community resort offers an activity-based
experiential lifestyle with a full suite of amenities. These include an 18 hole golf course, par 3 9-hole course, comprehensive state of the art golf training facilities, gym, spa, paddle sports, hiking nature trails, farm shop and food & beverage offerings.